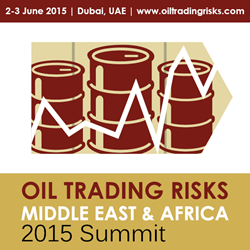 It's an IRN Summit
(PRWEB UK) 21 June 2015
Senior level speakers from oil trading companies and oil consuming businesses gathered in Dubai to discuss market, financial, political and counterparty risks associated to oil trading for companies operating within the Middle East and Africa region.
The meeting was opened on the first day with an insightful session around the oil price dynamic, where Gav Don, CEO of NewsBase, unveiled the innovating equilibrium theory, which presents a new take on what drives prices. It doesn't follow supply/demand dynamics, but equilibria in a set of different prices. In light of this theory, he felt oil prices would be back to three figures by the end of the year. He also analysed risks in tight oil before September 2014, arguing that back then there were no risks related to the tight oil activity; everything was straight forward in terms of technical challenges, transportation or market demand. All of this made it very tempting for investors who saw a risk-free investment opportunity.
The first presentation was followed by a panel discussion involving Cyril Secchi, Jean-Guillaume Herpe and Shabbir Shikari looking at risk management in the Middle East and Africa region. The panellists gave an overview of the risks the area is facing around production and transportation. They insisted that the lack of risk management knowledge was an issue, as well as the young financial sector which is not able to bear much risk, and the low use of insurance to reduce risks. They also agreed that things are going in the right direction with many companies looking into hedging their exposures, and more hedging instruments becoming available to help them do that. Companies in the region have started to adopt frameworks and develop a better risk management culture.
The drop in prices definitely raised alarm bells and encouraged higher awareness around risk issues. Speakers agreed that the key to successfully implementing risk management frameworks are first to gain a complete commitment from management, then to educate employees. Communication tools need to be developed to ensure no important information is missed, and employees should send more frequent reports. The use of an IT system should also be an important step for successful risk management.
The second day of the Summit included a Workshop led by Haroon Imtiaz where he captivated the audience by giving his stake on risk management and oil markets in general. He developed his Workshop around the company's risk appetite, hedging protocol, establishing the right approach and risk infrastructure.
The senior level speaker faculty at the Summit included eminent personalities such as Hassan Al Alawi, Manager Portfolio Management, The Oil & Gas Holding Company (nogaholding); Abdullah Zeren, Market Risk Manager, Aves Ic ve Dis Ticaret A.S.; Haroon Imtiaz, Head of MENA, Hess Energy Trading Co. (HETCO); Cyril Secchi, Senior Products Trader, Golden Crown; Michael Thell, Head of Software Development, ComFin Software; Shabbir M. Shikari, Manager - Risk Management, ENOC; Jean-Guillaume Herpe, Risk Manager, Ikon Petroleum; Claudio Ribeiro, Senior Trader and Lead Negotiator, Shell; Kazi Mohammed Riyazuddin, Chief Finance Manager (International Trade), Bharat Petroleum Corporation Limited; Gavin Don, CEO, NewsBase; Henry Smith, Associate Director – Global Risks Analysis, Control Risks; Jean-Christophe Desaintfuscien, Executive Director – Energy & Resources, National Bank of Abu Dhabi – NBAD; Anupama Bhatia, Chief Financial Officer, Milio International Ltd; Martin Thomas, ETRM Senior Manager, WIPRO; and Kush Srivastava, General Manager, Core Management Consulting.
This meeting was sponsored by the software solutions provider, ComFin; the information technology, consulting and business process services company, Wipro; and the multi-market commodity software solution provider, Allegro. The Summit was also supported by The Arab-British Chamber of Commerce.
Pictures and additional information can be found on the website http://www.oiltradingrisks.com. Documentation and presentations from this year are available for purchase for those who were unable to attend.