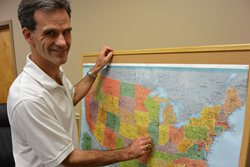 My main goal is to help my clients by taking the stress out of the entire process of relocating and clearing out an estate. It's important to be able to relax, spend time with your loved ones and have the best possible experience overall. - Bill Meirink
Chesterfield, MO (PRWEB) June 19, 2015
After a career dedicated to caring for seniors, Bill Meirink is looking forward to continuing that commitment through his new business, Caring Transitions of Chesterfield.
Caring Transitions is America's largest resource specializing in managing relocations for seniors and busy families as well as downsizing and estate liquidations. In addition to organizing, packing, decluttering, moving and resettling, Caring Transitions can handle on-site and online estate sales, liquidations, and preparing homes for market. Caring Transitions of Chesterfield serves Chesterfield, Wildwood, Ballwin, Eureka, High Ridge and the surrounding communities.
Whether your situation is planned or unexpected, Caring Transitions' services are perfect for busy families, seniors moving in with family or into a safer living situation, or people clearing out the home of a loved one who has passed. All of the services offered are customizable, so clients only pay for the services they need.
"Caring Transitions is a wonderful solution for anyone facing a challenging relocation or estate liquidation. We understand the physical and emotional toll relocating and clearing an estate can take. We're here to help make those transitions as smooth as possible," Meirink said.
Meirink comes to Caring Transitions with a background in occupational therapy. He has been helping patients struggling with hand injuries, stroke and other debilitations for more than 17 years. He's also certified in ergonomics.
"I wanted to own my own business, but I wanted to work in an industry where I could help others. I've worked with seniors throughout my career and I've always loved it. When I came across Caring Transitions, I just knew it would be a great fit for me and the next phase of my life," Meirink said.
"My main goal is to help my clients by taking the stress out of the entire process of relocating and clearing out an estate. It's important to be able to relax, spend time with your loved ones and have the best possible experience overall," he added.
Meirink is a Certified Relocation and Transition Specialist, a designation bestowed by an independent organization that evaluates providers of senior relocation services. Caring Transitions of Chesterfield is licensed, bonded and insured and all employees have been thoroughly background-checked.
When he's not working, Meirink dedicates much of his time to the community. He's an assistant scoutmaster, heavily involved with the Knights of Columbus and the treasurer of West County CYC Baseball among other service work. He and his wife of more than 20 years, Katherine, also have two children and a dog.
Caring Transitions is a trusted and highly respected national company leading the way in senior relocation, household liquidations and estate sale management in more than 150 locations across the United States. Caring Transitions is part of the International Franchise Association, the Small Business Association's Franchise Registry, VetFran and Minority Fran.
For additional information about Caring Transitions and to learn how the company can help you and your family, call (636)614-0911, email BMeirink@CaringTransitions.net or visit http://www.CaringTransitionsChesterfield.com.
About Caring Transitions
Caring Transitions, founded in 2006, is the first national franchising concept specializing in senior relocation and transition services. With more than 150 locations throughout the United States all owned and operated by Certified Relocation and Transition Specialists, Caring Transitions provides clients with supportive moves, auctions, rightsizing and transitions. This includes expert advice plus a well-executed transition plan beginning with the initial sorting of personal belongings through packing, shipping and selling of items to the final clearing and cleaning of the property. For more information, visit http://www.caringtransitions.com or visit us on Facebook or Twitter.