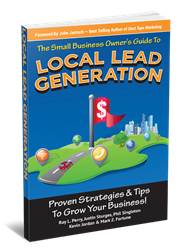 This book will take the guesswork out of marketing for small businesses. –Justin Sturges
Kansas City, MO (PRWEB) June 22, 2015
A group of Duct Tape Marketing Consultants announces the release of The Small Business Owner's Guide to Local Lead Generation, a new book created for small businesses seeking to attract and engage more ideal customers in their local area. Covering topics like local SEO, analytics, event marketing, website design and social media marketing, the book provides specific strategies and tactics to help small businesses double or triple their local customer base this year.
Local Lead Generation has been endorsed as an excellent resource by numerous small business marketing thought leaders, CEOs, and bestselling authors including Dr. Ivan Misner, Michael Port, John Jantsch, and Brian Clark.
Small businesses often find it a challenge to compete with large companies to attract local customers. This book gives them a competitive edge by arming them with the latest information on both online and offline marketing tactics, and gives them proven strategies to grow their businesses.
"We understand the struggle of small local business owners, so we wanted to provide a fool-proof guide to help them get the phones ringing and the doors swinging," said Mark Fortune, one of the book's authors and member of the Duct Tape Marketing consultant network.
Kevin Jordan adds, "Local Lead Generation was really written for business owners without a background in marketing who are trying to understand where to even get started. The book will give readers a very good idea of what tactics are right for their business, and how to use those tactics to get the best results."
Authors of Local Lead Generation include Mark Z. Fortune, Kevin Jordan, Ray L. Perry, Phil Singleton, and Justin Sturges—who combined have decades of experience helping local business owners create and maintain marketing systems.
Featuring more than just statistics and general information, Local Lead Generation digs deep into proven marketing solutions to offer readers step-by-step strategies they can begin to incorporate immediately to strengthen their business's marketing plan.
"This book will take the guesswork out of marketing for small businesses," said Justin Sturges.
"Business owners have a lot on their plates and can't always spend time researching what tactics are best, so they can use this guide to transform their marketing efforts, saving them a lot of time and headaches," said Ray L. Perry.
Phil Singleton adds, "With Local Lead Generation, we've made it simple for small businesses to succeed in the game of local marketing."
The Small Business Owner's Guide to Local Lead Generation is available in both print and digital formats from Amazon.com. To order a copy of this new book, visit http://localleadgenbook.com.
About the Authors
This group of authors hails from all over the nation – from Arkansas, California, Georgia, Kansas, and Virginia. In equally challenging and varied business climates, they've discovered first-hand how well the tenets of Duct Tape Marketing work when applied to local businesses– even those that stand in the shadows of big, national franchises. Detailed bios of all the authors are available on the Local Lead Generation book website.
Facebook: https://www.facebook.com/localleadgenbook
Twitter: https://twitter.com/LeadGenBook
About Duct Tape Marketing
Duct Tape Marketing is a unique turnkey small business marketing system created by award-winning small business marketing expert and author John Jantsch. Today, the Duct Tape Marketing System is used by thousands of small businesses worldwide and delivered through a network of certified consultants. It is widely recognized as the most successful small business marketing system ever created.