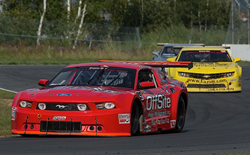 "The Trans Am Series race is going to be some of the best road racing we've ever had at Brainerd International Raceway," BIR owner Jed Copham.
Brainerd, Minnesota (PRWEB) June 22, 2015
BRAINERD, Minn. – Two familiar racing names – Andretti and Archer – will be among the pro drivers on Brainerd International Raceway's (BIR) road course this Fourth of July weekend as they compete in the Trans Am Series race, the featured event of the 29th Annual PleasureLand RV Show & Go.
The Andretti name should be a familiar one to anyone who has followed racing over the last six decades. Adam Andretti, 36, will be behind the wheel of the No. 44 Chevy Camaro during the Trans Am Series' Ryan Companies Independence Day Classic July 5. Andretti is the younger brother of veteran NASCAR driver John Andretti, first cousin of Indy 500 drivers Michael and Jeff Andretti, and nephew of racing legend Mario Andretti, who is the only driver to win the Indy 500, the Daytona 500 and the Formula One World Championships. Mario even raced at BIR in the late 1960s, shortly after the track was built, and served on BIR's Board of Directors in the track's early years.
Adam Andretti brings the family name back to BIR for the second year in a row. He has a diverse racing resume himself, competing in the NASCAR Featherlite Southwest Series, 24 Hours of Daytona and the Indy Pro Series before settling in to the Trans Am Series last year. He is currently in second place in the series' TA2 standings after five races.
Archer is also from a familiar – and very successful - racing family, one that got its start in Duluth on the dirt oval track in Proctor and the ice tracks off Park Point. Brothers Tommy, John and Bobby started Archer Brothers Racing and went on to dominate road racing in the 1980s, winning the Sports Car Club of America (SCCA) National Run-Off, eight straight SCCA World Challenge Championships and many races at BIR, which they consider their home track. Tommy, 57, also won the Detroit Grand Prix and had two second-place finishes at the prestigious 24 Hours of LeMans in France. He will be behind the wheel of the No. 49 Chevy Camaro at BIR.
Andretti and Archer will be among 50 drivers expected to race in the Independence Day Classic, a 40-lap, 100-mile race that will cap off a full weekend of racing. The Trans Am Series is typically part of BIR's GSTA Muscle Car Shootout on Labor Day weekend, but was moved to the Show & Go this year so SCCA Pro Racing could expand the race and televise it. The race will be aired on CBS Sports Network on July 17.
The Trans Am Series will be on BIR's 2.5-mile Competition Road Course for practice and qualifying Saturday and Sunday morning, with the race starting at 1:50 p.m. Sunday.
When the Trans Am Series isn't on the road course, the National Auto Sport Association (NASA) will be sharing its brand of competitive road racing. NASA has time trials, qualifying and racing scheduled both Saturday and Sunday.
BIR's drag strip will be busy as well all weekend with the second leg of the three-race Muscle Car Series. The action will be redlining as more than 350 drivers chase series championships. The series' seven Heads-Up Classes will be center stage because of the big horsepower and incredible speed on the track. Fans will see runs more than 200 mph and in the 6- to 7-second range.
Off the track, fans will be treated to a Classic Car Show on Saturday, live music by Waves Collide, a fireworks display and kids activities.
"We're really excited about this year's PleasureLand RV Show & Go because of the addition of the Trans Am Series and NASA on the road course," BIR owner Jed Copham said. "The Trans Am Series race is going to be some of the best road racing we've ever had here because the TV contract will bring out so many more professional teams. Fans are in for a real treat."
Daily admission is $25 and kids 12 and under are free. Tickets are available at the front gate or by calling BIR's Ticket Office at 218-824-RACE (7223) or 866-444-4455.On-site camping is free with a multi-day ticket.
Now in its 47th season, Brainerd International Raceway is one of North America's largest race tracks, featuring a world-class quarter-mile drag strip, the 3.1-mile, 10-turn Donnybrooke Road Course, the 2.5-mile, 13-turn Competition Road Course, 300 acres for rustic camping, 164 full-service RV sites and 12 on-site condos. BIR is about 120 miles north of the Twin Cities. For more information, visit http://www.BrainerdRaceway.com.