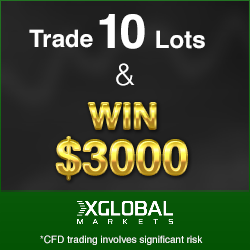 with all this internal development comes a point when it's time to sit back, do something fun and give something back to the traders
London (PRWEB UK) 22 June 2015
XGLOBAL Markets launches a prize draw that gives every single client the chance to win $3,000 in hard withdrawable cash. In order to take part, clients have to trade 10 lots of volume before the end of July 2015, after which time the winner will be announced.
It's been a busy year at XGLOBAL Markets with the launch of a new website that introduces support for 10 languages based on International demand. Along with the demand came the requirements for additional base currencies and more payment methods that have recently been implemented for clients. The website is also now mobile friendly to make the site more accessible to everyone irrespective of the device they use.
Mr. Samir Dbouk, CEO of XGLOBAL Markets said "with all this internal development comes a point when it's time to sit back, do something fun and give something back to the traders… We decided to open the draw for everyone and to avoid unnecessary terms. Clients can withdraw the prize money directly, no questions asked."
The idea to introduce the prize draw came from Mr. Nadi, COO of XGLOBAL Markets. His idea was to give traders something simple to do in order to be in a chance to win some money. Hence the idea that you only need to trade some lots (10) in order to enter the prize draw.
The draw is planned to add thrill to trading with XGLOBAL Markets putting not only the chance to make money through a combination of money management techniques as well as risk and reward but quite simply the chance to win money too. The draw is open to all clients of XGLOBAL Markets and the only requirement is to trade 10 lots during the promotional period. That volume can be produced in large trades, through expert advisors or using any other trading strategy clients want to employ.
Being an STP broker XGLOBAL Markets' main focus is on providing good quality execution and good terms of trading, which is generally what more experienced traders are looking for. With this business model there is no bonus but the prize draw promotion is thought to provide that excitement that they might just win.
Hadi Zaarour, a Strategic Consultant working with XGLOBAL Markets said, "The 3,000 USD in prize money is just the first step. We want to check out how people might react with such a new idea as this one. We are planning to add to the prize soon and we are looking at 10,000 USD further down the line. We will likely also be adding 2nd and 3rd place prizes soon to enhance trader's chances of winning more. At XGLOBAL Markets, we are always thinking of ways to give something back to our loyal traders".
XGLOBAL Markets will continue to improve its offering based on the demand it receives globally and has plans to offer more draw style promotions to heighten its clients' experience.
About the Author:
XGLOBAL Markets is a Forex broker that offers online trading in FX, Precious Metals, Commodities and Indices through CFDs and Futures in the Metatrader 4 platform. The execution model the broker offers its clients is pure ECN/STP along with competitive trading conditions and premium account management services. The company's ECN connectivity connects its clients trades to top-tier liquidity in real-time and its services is aimed at experienced traders of all kinds. XGLOBAL Markets is regulated by Cyprus Securities and Exchange Commission to provide reception and transmission, as well as execution of order on clients' behalf. Under the MiFID directive the broker is also registered in more than 20 European jurisdictions including the FCA and BaFIN to provide investment services.