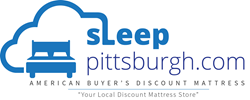 We don't just sell mattresses, we sell a good night's sleep.
Pittsburgh, PA (PRWEB) June 23, 2015
Pittsburgh's oldest mattress store announced today it's changing its name to SleepPittsburgh and is not just selling mattresses, but selling a good night's sleep.
American Buyer's Discount Mattress has served Pittsburgh for 70 years. This week it launched a three-month branding campaign announcing the changeover to SleepPittsburgh, your local discount mattress store. The campaign includes television and radio commercials, new signage, new logo and today's launch of the http://www.sleeppittsburgh.com website.
Owner Vincent Snyder prides himself on sleep made simple through a hassle free buying experience, assuring his customers get the right type of mattress at the lowest guaranteed price. As the company has done for the past seven decades, it continues to offer free delivery, setup and removal.
"We simplify the mattress buying process, make sense of common sleep challenges and enable our customers to get the best night's sleep possible," Snyder said.
The store has locations in Homestead and the North Hills, with 70 models on display representing a full line of mattress sleep surfaces. SleepPittsburgh carries the top brands, including Serta, iComfort, iSeries, Sealy, Beautyrest, Tempurpedic and Spring Air. It offers a full complement of sleeping surfaces from innerspring, latex, air adjustable, memory foam, gel memory foam, adjustable beds and hybrid mattresses. It also carries bunk beds, daybeds, futons and children's furniture.
"Buying a mattress doesn't have to be like buying a used car. We have no high pressure negotiations, games or gimmicks - just a great deal every day on the best mattresses money can buy," Snyder said.
Snyder said the new name reflects the focus and strategies that make the company successful in the first place. That includes keeping hometown personalized service and a belief that a good night's sleep is a fundamental right.
"You don't get our type of service and price guarantees at the big national chain and retail stores," Snyder said. In addition to the general public, SleepPittsburgh supplies more than 30 social service agencies and is widely-known for its various loyalty programs, including student discounts.
The company was started in 1946 by Seymour Farber, whose vision was to provide quality products at a discount price all the time. For years under his tutelage when it was American Buyers Guild and American Buyers Discount Mattress, the store operated as a closed door discount supplier restricted to the 51,000 members of the United Steel Workers of America District 15.
Snyder still operates the company with old fashioned business practices, guaranteed low pricing, and incentives that keep generations of Pittsburgh steelworker families coming back. SleepPittsburgh is the only remaining free-standing business of its kind in Pittsburgh.
The company is recommended as the source of discount bedding in the Giant Eagle Discount program, AAA "show your card and save" brochure, WQED's member discount card, West Penn Allegheny Health System – Donor appreciation card and the PEAA member discount card.
"We don't just sell mattresses, we sell a good night's sleep," Snyder said.
Ruth Hawk
Higher Images, Inc.
Director of Public Relations
412-203-1996
ruth(at)higherimages.com