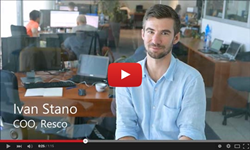 Participants who complete their registration before July 31st can take advantage of the early-bird pricing.
(PRWEB) June 22, 2015
Resco, a global leader in cross-platform mobile CRM solutions, invites all Dynamics CRM enthusiasts to Boston for resco.next. This educational conference focusing on Microsoft Dynamics CRM and mobility will take place on September 14-15.
"We are thrilled to be able to bring resco.next to the US. It is not only an opportunity for the attendees to learn about Resco's solutions, latest mobile CRM trends and best practices, but also to share experiences with peers from the Dynamics CRM community and our team," noted Ivan Stano, COO at Resco.
At the Holiday Inn Boston – Bunker Hill hotel, attendees will have the chance to dig deep into Resco Mobile CRM for Microsoft Dynamics CRM, Resco CRM and the future of the industry. More than 20 sessions will be split into 3 parallel tracks to match the interests of attendees with business and IT background.
Developers and users who are already familiar with Resco's products can build on their knowledge and learn how to unleash the full potential of the mobile CRM solution. Participants who are interested in expanding Dynamics CRM with a mobile solution or in a new standalone CRM solution can get all their questions answered by professionals gathered under one roof.
"But just as much as the attendees can learn from us, we can learn from them. Because their feedback is an essential thing in our work, we try to make the conference truly interactive. It turned out great in Vienna, so we're even more excited about Boston," says Stano.
Participants who complete their registration before July 31st can take advantage of the early-bird pricing. Special bulk discounts are also available for companies interested in attending with multiple representatives.
For all the details visit the event website: http://www.resco.net/next/
About Resco Mobile CRM
Resco Mobile CRM is a Microsoft Dynamics CRM mobile client that offers advanced customization capabilities. The application supports features such as custom entities, interactive maps, GPS tracking, photo capturing, dashboards, and many more. Supported mobile platforms: iOS (iPhone, iPad) — Android — Windows.
For more information visit: http://www.resco.net/mobilecrm
About Resco
Resco, founded in 1999, is one of the global leaders in developing cross-platform mobile software solutions. The team of Resco professionals utilizes its knowledge by designing products for corporate customers, developers, integrators and end users.
For more information visit: http://www.resco.net