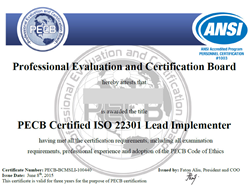 Spending thousands now to save millions in the future is a sound business decision...
Hamilton, NJ (PRWEB) June 23, 2015
Pivot Point Security, a leading information security consulting firm, specializing in helping companies of all sizes and types achieve ISO 27001 certification, announces its expansion into ISO 22301 – an international standard for Business Continuity Management (BCM). To solidify its commitment to ISO standards, Pivot Point has attained an ISO 22301 Lead Implementer Certification. Like the Lead Implementer certification for ISO 27001 (Pivot Point has 10 consultants holding that distinguished certification), the ISO 22301 Lead Implementer certification assures clients and future clients that Pivot Point is committed to Business Continuity and has dedicated resources to support their services.
Bob Cohen, newly certified ISO 22301 Lead Implementer, brings 20 years of Disaster Recover and Business Continuity experience to Pivot Point's consulting practice. "We are enablers for secure processing, but also functional continuity and recovery," said Cohen. He says companies are beginning to realize that not only do they need to prove to clients that they are handling their information securely (ISO 27001) but that they can continue to serve their clients in the face of a disaster. "Because we are experts in ISO implementation, we recognize - and capitalize on - the close connection between ISO 27001 and ISO 22301," Cohen said. He tells clients that if they are thinking about ISO 27001, it's not a far stretch to extend into ISO 22301 - because Pivot Point's approach is to collect data once and use this for both services. "In fact," he said, "if you are already ISO 27001 certified, we've got the expertise to use that original data collection and extend it into ISO 22301, making this critical business function affordable to companies of all sizes and industries."
A recent survey sponsored by the Disaster Recovery Preparedness (DRP) Council recounts that in 2014, losses from outages for 20% of companies ranged from $50,000 to over $5 million. This is reason enough to not only develop a Disaster Plan, said Cohen, but be sure that companies operationalize the plan, test the plan and run exercises to ensure the effectiveness of the plan. Pivot Point Security is committed to making the business and IT continuity plans we develop for clients extend from paper theories into real world scenarios, so that our clients will be in the minority of companies who actually recover from disaster, whether it be software or hardware failure, human error, power failure or weather.
"Spending thousands now to save millions in the future is a sound business decision," said John Verry, Managing Partner of Pivot Point Security. "We're happy to provide this extension of services to our valued clients."
For more information on ISO 22301 and the steps to certification, go to Pivot Point Security's website or call 1-888-PIVOTPOINT (748-6876).