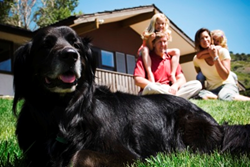 LINCOLN, R.I. (PRWEB) June 19, 2015
June is National Pet Preparedness Month, so Amica Insurance is sharing some tips to help keep pets safe during a natural disaster.
According to The Humane Society of the United States, 62 percent of American households include at least one pet. That's why Amica is sharing the following pet safety tips from Property Casualty 360:

Find a shelter: Before a natural disaster occurs, contact your local emergency management office to find a place to evacuate pets. If they must be boarded at a kennel, animal shelter or veterinarian's office, provide updated medical records for the animals.
Prepare a pet kit: Gather pet food, bottled water, medications, veterinary records, a manual can opener and food dishes in the event they're not available later.
Update pet ID tags: Have identification tags updated and securely fastened to the pet's collar. Additionally, consider having a microchip put under the animal's skin.
Protect pets during disasters: Pets have instincts about severe weather, and they may isolate themselves when scared. Bring them inside if there is bad weather on the horizon, which could prevent them from running away.
Monitor pets after an emergency: Pet behavior sometimes changes after an emergency, with animals becoming anxious or aggressive. Watch them closely until things have settled down.
About Amica Insurance
Amica Mutual Insurance Co., the nation's oldest mutual insurer of automobiles, was founded in 1907. The company, based in Lincoln, Rhode Island, is a national writer of auto, home, marine and umbrella insurance. Life coverage is available through Amica Life Insurance Company, a wholly owned subsidiary. Amica employs more than 3,400 people in 44 offices across the country. For more information, visit Amica.com.
Contact: Vince Burks, Corporate Communications, 50 Amica Way, Lincoln, RI 02865-1155, 800-652-6422, ext. 24563
Twitter: Amica
Facebook: Amica Mutual Insurance Co.