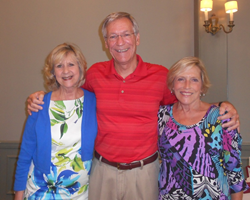 This event helps local families receive respite from care giving, in a loving and caring environment.
Valdosta, Georgia (PRWEB) June 30, 2015
Easter Seals Southern Georgia hosted Sweet Charity on June 18h at the Valdosta Country Club in Valdosta. While enjoying food and drink, guests participated in a silent auction with a variety of items donated by local businesses. Participating restaurants were Atlanta Bread Company, Elliano's , Georgia Mountain Water, Salty Snapper, Smallcakes, Wiregrass, and the Valdosta Country Club.
A special thank you to all the local businesses that donated items for the silent auction: Lenox River Ranch, Black Crow Media, YMCA Valdosta-Lake Park, Steel's Jewelry, Fairway Outdoor, Anytime Fitness, The Azalea Center, Lemongrass Day Spa, Care Medical Center, Southern Vines & Garden Market, Fab'rik, Therapy Center of Valdosta, South Georgia Vein, Discovery Flight, Randy Cox Web Design, Magnolia House, Horse Creek Winery to name a few.
Proceeds from the event will benefit Megan's House, a children's respite home, in Valdosta. Megan's House serves children with developmental disabilities or who are medically fragile and are between the ages of 0-17. Easter Seals Southern Georgia operates three Megan's Houses locations in Albany, Valdosta, and Waycross. Respite care provided at Megan's House may be used for a crisis situation or for a scheduled break.
Easter Seals Southern Georgia provides exceptional services, education, outreach, and advocacy so that people living with autism and other disabilities can live, learn, work and play in our communities. Stay connected! Sign up to receive news and special announcements. To read more about our organization go to
http://www.easterseals.com/southerngeorgia/ or call 229-247-6912.