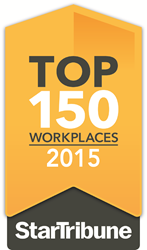 St. Louis Park, MN (PRWEB) June 22, 2015
Magenic is pleased to announce that it has been selected as one of Star Tribune's Top Workplaces in Minnesota for the fourth consecutive year.
The Top Workplaces are determined based solely on employee feedback. The employee survey is conducted by WorkplaceDynamics, LLC, a leading research firm on organizational health and employee engagement. WorkplaceDynamics conducts regional Top Workplaces programs with 45 major publishing partners across the United States. Over the past year, more than 6,000 organizations and 1 in every 88 employees in the U.S. have turned to WorkplaceDynamics to better understand what's on the minds of their employees. Through its workplace improvement offerings, WorkplaceDynamics provides solutions, training and tools to help clients improve their workplace.
Magenic prides itself on creating a challenging but rewarding work environment. "I'm very excited Magenic has been recognized as one of the Star Tribune's Top Workplaces for the fourth consecutive year," said Magenic Minneapolis GM Tony Mohl. "Magenic is a great place to work and I'm proud to be a part of this exceptional organization."
For more information about the Top Workplaces lists and WorkplaceDynamics, please visit http://www.topworkplaces.com and http://www.workplacedynamics.com.
About Magenic
For two decades, Magenic has been tackling the toughest, most complex software development projects and delivering software that moves companies forward. Driven by the two technical leaders that founded the company, Magenic addresses modern enterprise application development challenges and tailor solutions to best fit clients.
Magenic prides itself on transforming businesses through technology and taking them from where they are to where they want to be. Magenic provides clients flexibility by working in a way that is best for business, the expertise to address the most mission-critical software challenges, and the velocity necessary to get projects out the door. To find learn more, email info(at)magenic(dot)com or call 877-277-1044.