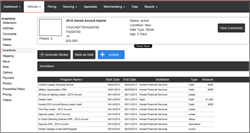 "New Car Incentives helps dealers streamline their new car merchandising and pricing process," according to Jennifer Ryan, product director for Dominion Inventory Manager Solutions
Norfolk, VA (PRWEB) June 23, 2015
Dominion Dealer Specialties, a division of Dominion Dealer Solutions and industry leader in automotive inventory management, has announced the launch of New Car Incentives for Dominion Inventory Manager.
Dominion's New Car Incentives feature provides dealers with automated access to manage and apply new car OEM rebates, as well as incentive information to assist with pricing and merchandising new cars. The Dominion Inventory Manager automatically accesses the information and helps dealers instantly apply incentives with its pricing data, comments, photos and overlays.
Dealers using the New Car Incentives receive notification alerts for available new rebate and incentive information. This lets franchised dealers nationwide ensure their vehicles are in a consumer's comparison set. With this enhanced guidance, dealers can develop a faster, more comprehensive approach to their appraisal process.
Dominion's New Car Incentives have a proprietary rules engine with more flexible pricing management. Dealers can apply rules as needed to ensure their vehicles are marketed accurately and syndicated directly to all websites and portals. Dealers can also set rules to automatically apply or remove new car rebates and incentives.
"New Car Incentives helps dealers streamline their new car merchandising and pricing process," according to Jennifer Ryan, product director for Dominion Inventory Manager Solutions " Providing complete visibility and a more automated process not only promotes a more profitable sales approach, but also achieves the ultimate goal of driving a more consistent, timely and accurate consumer shopping experience."
###
About Dominion Dealer Solutions
Dominion Dealer Solutions helps car dealers attract, retain, and service customers for life. Dominion's Progressive Retail Solutions include customer relationship (CRM) and dealer management systems (DMS) with actionable intelligence from the Microsoft Dynamics platform. Dominion's Progressive Retail Solutions also feature lead management and equity mining technology, inventory management analytics, social media marketing and reputation management solutions. Dealers nationwide purchase custom lead generation and digital marketing tools from Dominion including: responsive design websites, SEO, SEM, digital advertising, multi-channel marketing, specialized data aggregation, mobile apps and market reports. OEMs and auto dealers nationwide utilize Dominion Dealer Solutions' technologies to solve their marketing challenges. Dominion Dealer Solutions is redefining automotive retail by delivering first-class customer experiences for local car buyers. For more information, visit our website, like us on Facebook, Pinterest or YouTube, or follow us on Twitter.
About Dominion Enterprises
Dominion Enterprises is a leading marketing services and publishing company serving the automotive, recreational and commercial vehicle, real estate, apartment rental, parenting, and travel industries. The company's businesses provide a comprehensive suite of technology-based marketing solutions including Internet advertising, lead generation, customer relationship management, website design and hosting, and data management services. The company has more than 45 market-leading websites reaching more than 20 million unique visitors monthly. More than 77 million For Rent®, and HotelCoupons.com® publications are distributed nationwide each year. Headquartered in Norfolk, Virginia, the company has 3,300 employees in more than 145 offices in the United States, Canada, England, Spain and Italy. For more information, visit DominionEnterprises.com.
Media Contact:
Dominion Dealer Solutions
Peyton Hoffman
Director of Public Relations and Event Management
757.351.7271
Peyton.hoffman(at)drivedominion(dot)com