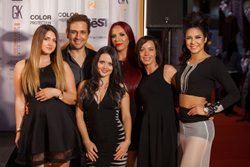 "The environment of the GKhair show this year was full of energy and quite refreshing to see the sales, education team working in synergy to provide an enjoyable experience." Says Van Tibolli, CEO and Founder of GKhair.
Orlando, Florida (PRWEB) June 21, 2015
GKhair's creative team of Change Agents take the stage in Orlando to showcase new products, techniques and all around beautiful hair styles to the International audience in Premiere Orlando Beauty Show. The creative team instructed stylists through step-by-step up style demonstrations found in GKhair's Miles of Hair Collection. GKhair also introduced new Taming Techniques with The Best Juvexin Treatment called "Italian Style Application" to provide more options stylist(s) behind the chair can use to achieve desired results while generating more revenue in services.
All stylists who stopped by GKhair's booth to watch and learn how to apply GKhair Smoothing and Color Applications were welcomed warmly to experience the excitement and even have the opportunity to win prizes every hour through the entirety of the show.
The show was hosted by Stephanie Bolivar, the television personality for an up and coming Stylist Reality TV show locally in Orlando, with Pro-Pair entertainment carefully selecting the sounds to keep the artistic flow of GK's platform artists and audience engaged throughout the event. Eric Dowis performed a comedic dance performance which captivated the crowd with laughter every time.
GKhair introduced for the first time its new Juvexin Color Sealing product to smooth the hair and lock in color with UV/UVA and Color Protection. Color Sealing will create shine and frizz free results that will last your client up to 2 months and recommended applications follow each full color application.
Diane Puccio, Lead Platform Artist for GKhair and International Educator, led the creative team and shared her knowledge and experience with GKhair by demonstrating techniques of haircuts, hair color and hair taming to provide more solutions for salon professionals. "We really wanted to emphasize "change" this year. From decadent reds to steel silvers, hair was being transformed and brought to life. Our vision was to create a twist between fashion forward and classy elegance. The colors were fun and modern, but still 'wearable.' The Juvexin, a keratin anti-aging protein blend optimized for the hair found in GKhair cream color, allowed us to alter levels and tones, while keeping the integrity of the hair, which is always our priority," says Diane. "GKhair NEW Juvexin Cream Colors, fortified with Juvexin and Ceramides excelled in performance and impressed the audience with a wide range of color tones and hair types on the GKhair models perfectly throughout the 2-day beauty show."