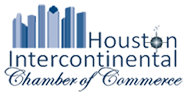 ITVibes provides services to a variety of industries much like the chamber, and is one of the only companies that not only provides their services, but offers education through training and seminars for their clients. - Reggie Gray, President of HICC
Houston, Texas (PRWEB) June 24, 2015
The Houston Intercontinental Chamber of Commerce is an organization that provides services and events that focus on tangible business results and teach their members and the community how to measure the effectiveness of their efforts. Our membership also includes several foreign consulates and members from numerous countries such as Mexico, China, Malta, Canada, Japan, and England. Reggie Gray is the President of HICC and has a background in real estate and economic business development.
ITVibes, Inc is a Houston Web Design and Online Marketing company located in The Woodlands, Texas. ITVibes creates integrated websites as marketing solutions with mobile strategy, Social Media branding and Local Search Engine Optimization with high lead generation and conversion rates. Siva Yenneti is the President of ITVibes, with a background in Information Technology and Services.
HICC and ITVibes partnership reflects the core values of each organization. Both HICC and ITVIbes ongoing educational events and services add value to business and the community by bringing innovative strategy and information to help businesses adapt and thrive in an ever changing environment.
This lecture series is an introduction and overview of what Social Media does for companies and small businesses. It provides an emphasis on the major Social Media networks that businesses need to utilize to become competitive forces in online marketing and business. Each lecture highlights different aspects of using Social Media and how to measure the effectiveness of those efforts.
The lecture series is suitable for all business owners and employees with all experience levels. Each seminar offers introductory and intermediate level information. Anyone interested in learning how to optimize businesses' online presence for branding, and marketing to attract new clients can benefit from the seminar. After each seminar, attendees have the opportunity for a one on one follow up for further information.
The lecture series is offered at two of the HICC locations on the following dates:
Houston Intercontinental Chamber of Commerce North Houston:
How to Use Facebook to Build Audience and Exposure – July 22nd
How to Use LinkedIn to Generate More Customers – August 19th
How Content Marketing Drives Local Search Rankings – September 16th
How to Use Twitter to Create Better Branding – Oct 21st
How to Use YouTube to Boost Google Optimization – November 18th
How to Measure Online Marketing and ROI – December 16th
Seminars at the Houston Intercontinental Chamber of Commerce Galleria location will begin on August 18th, and will occur monthly on every third Wednesday of each month until February.
Cost of attendance is $10 for HICC members and $15 for non-members. Lunch will be provided. Attendees have the option to pay per seminar, and there is a discount available for signing up for the entire series.
Register online at http://www.houstonicc.org or http://www.galleriacc.com or call Erica Reifel to RSVP at 281.408.0866 or Email at: ereifel(at)houstonicc(dot)org