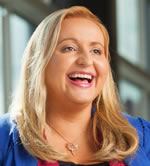 You can expect truly top tier speakers in a conference that's big enough to have the diversity in networking and experiences you want, while being small enough to have the time to connect with speakers to ask the questions you need.
Seattle, Washington (PRWEB) July 02, 2015
Naomi Moneypenny will deliver two sessions at SharePoint Fest Seattle on August 19 and August 20, 2015. Her two sessions will be held at the Washington State Convention Center in downtown Seattle.
SharePoint Fest is a two-day training conference (plus an optional day of workshops) that will have over 70 sessions spread across multiple tracks that brings together SharePoint enthusiasts and practitioners with many of the leading SharePoint experts and solution providers in the country.
Naomi Moneypenny's sessions:
11:20 am Wednesday - SharePoint 2016 Roadmap: Practical Implications for Your Organization
11:20 am Thursday - 7 Steps to Successful Social Business
About Naomi Moneypenny:
Naomi Moneypenny is CTO at Synxi (a ManyWorlds brand) where she leads the development team for the knowledge & expertise discovery machine learning engine for SharePoint, Yammer and other social systems. Naomi is a Microsoft Office 365 MVP and holds over 30 patents in the area of adaptive systems and was named a Top 25 SharePoint Influencer in 2014. She has led global deployments of Enterprise Social networks and advises some of the world's largest companies on how to become more agile and innovative through the use of new technologies. An astrophysicist by background, Naomi is a frequently requested speaker at international events for her expertise in enterprise social & collaboration, anticipatory computing & business growth from innovative technology. Follow Naomi at @nmoneypenny and read her latest thinking at NaomiMoneypenny.com.