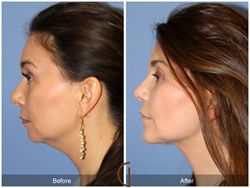 More and more young adults are looking into different anti-aging cosmetic procedures in order to keep themselves looking and feeling young
Newport Beach, CA (PRWEB) July 09, 2015
In today's society, both men and women are taking a proactive approach when it comes to aging. Plastic surgery has become one of the most common medical procedures in the United States, and many people are questioning when the right time to consider plastic surgery may be. Dr. Kevin Sadati, an Orange County and Newport Beach facial plastic surgeon that specializes in minimally invasive facial and nasal surgery, has recently outlined what ages certain cosmetic procedures should be considered.
"More and more young adults are looking into different anti-aging cosmetic procedures in order to keep themselves looking and feeling young," Dr. Sadati explained. "Rhinoplasty, nose reshaping, and breast augmentation are the most popular among the young adult age category. Young adults tend to prioritize smooth skin, facial imbalances and body proportions, so these procedures are most beneficial to them."
Dr. Sadati added that people in their 30s are more likely to consider Botox®. He explained that Botox® minimizes muscle activity, which slows the aging process regarding the formation of fine lines and wrinkles. "When men and women hit their 30s, they really start to think about looking older. Many people want to do what they can to minimize the aging process, and Botox® is a great way to do that without having to undergo surgery."
According to Dr. Sadati, people in their 40s really begin to see the aging process set in. Skin around the eyes and forehead is prone to wrinkle and can begin to droop, causing people to look much older than they are. "When you hit your 40s it may be time to consider derma fillers or minimally invasive cosmetic procedures such as blepharoplasty. Sagging and drooping skin can leave you with a tired appearance. Removing wrinkles or lifting loose skin around the eyes, with an eyelid lift, is a simple treatment with fast recovery. Plus, it is performed in our facility under local anesthesia and twilight sedation. General anesthesia is not required for a comfortable experience."
Dr. Sadati is a highly specialized cosmetic surgeon in Orange County and Newport Beach. Known for pioneering a number of innovative procedures such as his revolutionary natural looking lower face and neck lift technique and free fat transfer with PRP, Dr. Sadati and the Gallery of Cosmetic Surgery offer more than a decade of experience in the field of plastic and reconstructive surgery.
Dr. Kevin Sadati is board certified by the American Osteopathic Board of Otolarynology Head and Neck Surgery (AOBOO-HNS) and one of the top facial plastic and ENT (ear, nose and throat) surgeons in California. He specializes in minimally invasive facial and nasal surgery and has over a decade of experience in his field. Along with being a member of the prestigious American Academy of Facial Plastic & Reconstructive Surgery (AAFRS), Dr. Sadati is also a Diplomate of the American Board of Cosmetic Surgery (ABCS). Through his extensive experience and skill, he has become one of the most sought after Newport Beach and Orange County plastic surgeons for facelifts, rhinoplasty, liposuction and sinus surgery.
For more information about Dr. Sadati or his nationally recognized medical practice please call 949-706-7776 or visit our website at http://www.galleryofcosmeticsurgery.com