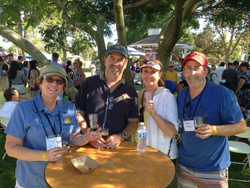 Brewers and visitors alike swooned over the level of personal service at last year's Carlsbad Brewfest. No amenity was unaccounted for.
Carlsbad, Calif. (PRWEB) June 23, 2015
More than thirty craft brewers are convening at this year's Carlsbad Brewfest on September 12, 2015. The hosts of San Diego's longest running and most successful Oktoberfests are inviting all San Diegans to make merry with suds from breweries that crisscross the county, California, the United States, and the Western World.
New Belgium Brewery—the makers of Fat Tire—is a major sponsor of the event for the second year in a row, and local brewery industry supplier and stalwart, Premier Stainless of Escondido has stepped up to join them.
Sierra Nevada, Stone, Ballast Point, Belching Beaver, Mother Earth, Boozebrothers, Barrel Harbor, Arcana, Einstock (Iceland), Stumblefoot, and more will all also be in attendance to delight the Carlsbad Crowd. A full list of participating breweries can be found at http://www.carlsbadbrewfest.org/#!beer/c11rf.
Tickets are on sale in advance for $35 before July 15th after which the price will increase to $40 until the day of the event, and tickets purchased at the gates will be $45. Special $10 non-drinking passes are available for designated drivers. Tickets can be purchased via the festival's website (http://www.carlsbadbrewfest.org) or through the event's Facebook page (https://www.facebook.com/brewfestcarlsbad).
Over 1000 attendees came to last year's Brewfest, and brewers and visitors alike gave glowing reviews of the festival's accommodations and atmosphere. The crowd is expected to double in 2015, the event's second year.
Music and games will complement the fun offered by brewers' booths, and local restaurants will line visitors' stomachs with their best offerings.
Carlsbad Brewfest will be in Holiday Park in Carlsbad during the afternoon between 12:00-4:00 on Saturday September 12. The location is just off the 5 Freeway at the Carlsbad Village Drive exit.
The Rotary Clubs of Carlsbad host the Carlsbad Brewfest, and have separately hosted 30 years worth of Oktoberfest celebrations for the North County community.
Brewfest proceeds will benefit scholarships for local students and marines who choose to further their educations, and will assist with other Rotary Charities. The Rotary Clubs of Carlsbad are perpetually dedicated to "Service Above Self".