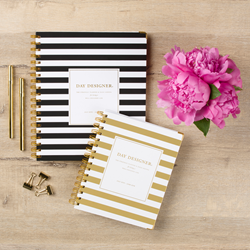 TUSTIN, CA (PRWEB) June 22, 2015
Blue Sky, The Color of Imagination®, an industry leader in high quality, design-focused planners and calendars, has partnered with lifestyle expert Whitney English, creator of the iconic Day Designer, to make an inspired new line of stylish and functional dated calendars and planners for busy modern women.
The Day Designer for Blue Sky collection features sophisticated covers, pops of color and chic touches of gold that look great and inspire users to organize with creativity and style. The line is comprised of 17 unique dated planners and calendar products in a range of sizes, page formats and cover designs including classic stripes, crisp geometrics and a colorful floral. The collection will appeal to creative professionals, on-the-go students and busy moms for use at work, home and school.
Each Day Designer for Blue Sky planner features easy-to-use dated calendars, smart planning pages and plenty of notes pages to enable users to visualize their time, manage their schedules and accomplish more each day. A "how-to-use" section at the beginning of each planner offers a personal letter from Whitney English and instructions on using the planner effectively. Inspirational quotes add meaning and help users establish their intentions for the day. Planners will available in monthly/daily, monthly/weekly and monthly formats. Calendars will run from July 2015 – June 2016.
"I created Day Designer in response to my own desire for a planner that was both functional and beautiful. I envisioned a planner that would be simple to use yet robust enough to handle the modern woman's busy, chaotic, challenging - yet ultimately rewarding - life. An efficient planning system was truly the key to helping me, and busy women all over the world, find focus, create balance and live a more inspiring life," said Whitney English, CEO and Founder of Day Designer. "When I started Day Designer I sincerely hoped it would change lives. Blue Sky is helping Day Designer do that on a much larger scale, and I'm honored and humbled to be a part of helping make that happen."
The entire Day Designer for Blue Sky collection will be available exclusively at Target stores for 16 weeks beginning early July through October 2015, with selected items available on Target.com. Retail prices at Target will range from $5.99-$19.99. A selection of Day Designer for Blue Sky items will also be sold online at http://www.bluesky.com.
###
ABOUT BLUE SKY, THE COLOR OF IMAGINATION®
Blue Sky, The Color Of Imagination®, is a leading dated goods company based in Orange County, California, offering high quality, design-focused dated calendars, planners, notes and journals. Known for their superior functionality, Blue Sky products feature high quality features, including thick paper stock, durable covers, Mylar tabs for finding information fast and wire-o binding for easy page turning. With a strong appreciation for beautiful yet functional design, Blue Sky has developed several design collaborations including Sugar Paper, Susy Jack, Dabney Lee, Egg Press, Day Designer and Ampersand Design Studio. Blue Sky products are available at retailers nationwide. For more information on Blue Sky please visit http://www.bluesky.com.
ABOUT DAY DESIGNER®
Well known as a lifestyle expert specializing in business building and personal growth for both creatives and professionals, Whitney English created Day Designer® in 2012 as a response to her own need to balance her role as a professional with her family life. The system is built upon a daily "today/to-do" approach that enables users to envision daily tasks, appointments and priorities. The beautiful covers elevate the planning experience, look lovely on the desk and express the user's personal style. Whitney English is a sought after speaker and lifestyle expert. She lives with her family in Oklahoma. For more information on Day Designer®, please visit http://www.daydesigner.com.