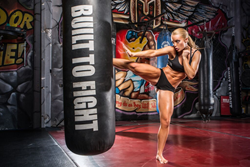 Yorktown Heights, NY (PRWEB) June 22, 2015
Yorktown Heights native and consummate athlete Amanda Saccomanno may soon be stepping into the ring to wrestle and entertain for millions of fans around the world.
Saccomanno – who goes by Mandy Sacs – has muscled her way into the final 13 of the WWE's Tough Enough competition, where contestants vie for a one-year, $250,000 WWE Diva contract – plus bragging rights and the opportunity to perform regularly in the WWE. Saccomanno's journey is showcased on the USA Network's "WWE Tough Enough," a reality series that chronicles contestants' trials and tribulations.
Saccomanno rose to the final 13 after beating out more than 11,000 hopefuls who applied to enter the competition. But for those who know Saccomanno, her success hardly comes as a surprise. The talented fitness professional got her start in 2014 when she took first place in the largest and most prestigious "fitness & fashion" competition in the world. The petite powerhouse can lift 225 pounds and her workout regimen includes a weekly slew of weight training, Cross Fit, Pilates, dance and yoga. Saccomanno is also a World Beauty Fitness & Fashion (WBFF) Pro Bikini World Champion.
"I've been passionate about fitness my entire life, and the ability to compete for the Tough Enough crown is truly rewarding," Saccomanno says. "Being able to train and compete alongside the WWE – which houses some of the world's most talented athletes – is an amazing opportunity."
"Amanda has the unrivaled combination of athleticism, beauty and peak physical fitness to take her to the top of this competition," says Peter Anske, Saccomanno's manager.
Fans can tune in every Tuesday night at 8PM EST on the USA network to watch Saccomanno rise to the top on "WWE Tough Enough" (https://www.wwetoughenough.com/contestants/amanda-saccomanno). Visit her personal website at http://www.amandasaccomanno.com and join her thousands of fan followers on social media at @mandysacs.