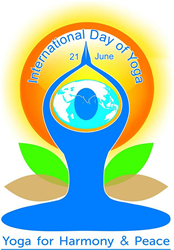 "For thousands of years, the traditional systems of health in India, including Yoga, have known about the mind-body connection in health and disease,"
Fairfield, IA (PRWEB) June 20, 2015
Even as yoga becomes popular in the West, India is losing touch with its own tradition — a direction that new Indian Prime Minister Narendra Modi intends to reverse.
At the behest of Mr. Modi, the United Nations declared June 21 as International Day of Yoga, with yoga practitioners around the world celebrating the day via public demonstrations and other events.
Maharishi University of Management in Fairfield, Iowa, will offer an evening celebration that will include talks by faculty and recorded talks of Maharishi Mahesh Yogi.
"It's a great joy that the real meaning of yoga is being re-enlivened in India and in the world," said Dr. Bevan Morris, president of Maharishi University of Management. "Yoga goes far beyond physical postures and in its original sense is a means of discovering the essential unity among everything in existence. One becomes aware that one is nothing other than that pure consciousness that underlies all of existence."
Prime Minister Modi takes the lead
Mr. Modi rises before dawn and practices yoga asanas daily. One of his first actions when he became prime minister last year was to elevate the department that oversees yoga and traditional medicine to a ministry. Shripad Naik was appointed to head the Ministry for Ayurveda, Yoga, Unani, Siddha, and Homeopathy (AYUSH). He also rises before dawn daily to practice yoga asanas.
MUM faculty member Robert Schneider, MD, FACC, was at the World Ayurveda Congress in India when Mr. Modi presented his plan to revive the traditional systems of medicine of India. Mr. Modi emphasized a scientific approach to traditional medicine, and Dr. Schneider subsequently met with Minister Naik to discuss implementing research-based, practical programs that could help ameliorate public health problems facing India today.
"For thousands of years, the traditional systems of health in India, including Yoga, have known about the mind-body connection in health and disease," Dr. Schneider said. "Only in recent years has modern science come to rediscover and revalidate Yoga for mental and physical health. The clinical trials that we and others at more than a dozen U.S. medical schools have conducted shows that the meditation aspect of Yoga, in particular the Transcendental Meditation technique, reduces blood pressure, stress, heart disease risk, and rates of heart attack, stroke, and death."
Dr. Schneider said that Mr. Modi is a very practical person who appreciates and practices Vedic knowledge and technologies. "He bridges ancient and modern knowledge and technologies, and his government ministers share that view."
In his presentation to the World Ayurveda Congress, Prime Minister Modi expressed profound concern with the health and well-being of his citizens, Dr. Schneider said.
With the modernization of Indian society and lifestyle, cardiovascular disease has become the leading cause of death. Modern medical treatment is expensive and not accessible to much of the population, and Mr. Modi feels that traditional systems of mind-body medicine must be revived to solve these problems.
When Mr. Modi addressed the United Nations General Assembly last September, he took the opportunity to call for the adoption of International Yoga Day. He believes that this traditional practice can bring benefits worldwide. In December, the United Nations officially declared June 21 as the International Day of Yoga.
MUM faculty participate in India conference to restore tradition
Given the renewed interest in traditional practices in India, in February MUM President Morris and eight faculty members helped to organize and participated in a conference to re-enliven the Vedic tradition in India. The conference brought together government ministers, leaders of Indian spiritual organizations, and leaders of Maharishi's worldwide organizations.
"The purpose was to re-establish ideal Vedic life for India and to connect the Vedic knowledge with modern science," Dr. Morris said.
The conference included over 120 delegates from 40 countries as well as 200 delegates from India.
June 21 celebration on MUM campus
Maharishi University will celebrate the first International Day of Yoga with a special event on Sunday, June 21, at 8:00 p.m. in Dalby Hall in the Argiro Student Center. Dr. William Sands, Dean of the College of Maharishi Vedic Science, will speak on "The Path of Yoga vs. the State of Yoga in Maharishi Vedic Science." Two video recordings of Maharishi will discuss the practice of Yogic Flying. And Dr. Peter Freund, assistant professor of Maharishi Vedic Science, will explain the discovery of Yoga in the human physiology by Maharaja Adhiraj Rajaraam.
Maharishi University of Management (MUM) in Fairfield, IA, is a private university featuring Consciousness-Based education. The accredited traditional curriculum offers bachelor's, master's, and doctoral degrees in the arts, sciences, humanities, and business, but also integrates self-development programs. Innovative aspects include the Transcendental Meditation® program, one course at a time, and organic vegetarian meals. Visitors weekends are held throughout the year. For more information, call the Admissions Office at 800-369-6480 or visit http://www.mum.edu.