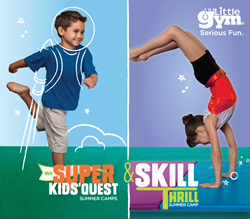 Scottsdale, Arizona (PRWEB) June 22, 2015
This summer The Little Gym is offering two camp programs; Super Kids' Quest Summer Camp for children 3 to 8 years and Skill Thrill Summer Camp for children 6 to 12 years. Super Kids' Quest Camp challenges children 3 to 8 years to spend three adventure-filled hours a day completing a fun, exciting mission or "Quest." Each Quest employs a creative storyline designed to incorporate opportunities for kids to exercise their muscles, imaginations and cooperation skills.
For thrill seekers, The Little Gym is offering Skill Thrill Summer Camps. Skill Thrill Camps provides kids 6 to 12 years with a more intense 3 day per week program focused on learning specific skills all while reviewing and practicing all-around gymnastic skills. Skill Thrill Camps are designed to offer the perfect combination of skill building, fun and success.
From Super Kids' Quest Camp, to Skill Thrill Camp, to one of The Little Gym's regular scheduled summer classes for children 4 months to 12 years, The Little Gym has something for everyone. Families can sign up for several weeks, a week, or even just a day at a time. Join the fun by contacting your local The Little Gym or visit us online at http://www.thelittlegym.com.