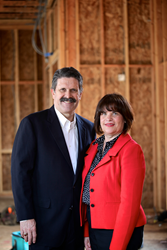 La Cañada-Flintridge, Calif. (PRWEB) June 22, 2015
Susan and Bradley Mohr, licensed real estate agents in the Pasadena and La Cañada-Flintridge, California markets, have joined the prestigious Haute Living Real Estate Network.
The Haute Living Real Estate Network (HLRN) of Hauteresidence.com is proud to recognize Susan and Bradley Mohr as prominent real estate professionals and the network's newest partner. HLRN unites a distinguished collective of leading real estate agents and brokers, highlighting the most extravagant properties in leading markets around the globe for affluent buyers, sellers and real estate enthusiasts.
About Susan and Bradley Mohr:
Founding partners of Partners Trust's Pasadena office and long-time residents of Pasadena, Susan and Bradley Mohr have been one of the region's top producing teams for 30 years. They are passionate about selling not only architecturally significant and luxury homes but properties in all price ranges in Pasadena, La Canada Flintridge, San Marino, Altadena, and other San Gabriel Valley communities. They are focused on building relationships and nearly 100 percent of their clients are referrals, including corporate relocation clients from organizations such as The University of Southern California (USC), The USC Keck School of Medicine, City of Hope, Children's Hospital L.A., the Los Angeles Dodgers, The Capital Group, The Walt Disney Company, and more. They possess the highest level of integrity and dedication, and work tirelessly to deliver the very best to their clients and the communities they represent. Outside of the office both Susan and Bradley have dedicated countless hours volunteering with a host of community wide organizations, including Pasadena Five Acres, USC Marshal School of Business Alumni Association, The Boy Scouts of America, and the Pasadena Tournament of Roses.
To learn more, visit Susan and Bradley Mohr's Haute Residence profile: http://www.hauteresidence.com/member/susan-and-bradley-mohr/
About Haute Living Real Estate Network (HLRN):
Haute Living Real Estate Network (HLRN) of Hauteresidence.com offers readers the most prominent directory of experienced realtors, brokers and luxury listings, and HLRN has grown to be the number one source for real estate news, residential developments, celebrity real estate news and more. Seeking an experienced interior designer? Hauteresidence.com is also home to Haute Design Network (HDN), a collective of celebrated interior designers that will help you decorate your new home or stage an active listing.
Access all of this information and more by visiting: http://www.hauteresidence.com