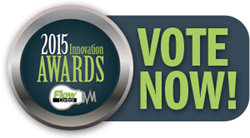 This year's nominees represent a wide array of new and exciting developments in fluid handling technology.
BIRMINGHAM, Ala. (PRWEB) June 23, 2015
Flow Control magazine, a technical journal for industrial fluid handling professionals, is pleased to announce its 2015 Innovation Awards nominees.
Technology is vital to industrial fluid handling applications. Each year, the Flow Control Innovation Awards recognize exciting new technology solutions for fluid movement, measurement and containment. After an open call for nominations, Flow Control is proud to present 27 final nominees representing outstanding innovation, ranging from flowmeters and transmitters to pumps and valves.
Voting for the Innovation Awards is now open to the public through Aug. 1 on Flow Control's website, http://www.flowcontrolnetwork.com.
"This year's nominees represent a wide array of new and exciting developments in fluid handling technology," said Matt Migliore, Flow Control Executive Director of Content. "We are proud to present such a vast assortment of instruments and devices to our readers for voting this year, and we think our readers will find the nominated technologies can be applied to improve the efficiency of day-to-day plant operations."
Winners will be announced in the September 2015 edition of Flow Control magazine, followed by case studies on each winning technology in the October issue.
2015 Innovation Awards Nominees:
Gas Select COMPOSER — Alicat Scientific
ASCO 364 Series Stainless Steel Spool Valve — ASCO Numatics
BEACON Advanced Metering Analytics — Badger Meter
SKG Series Submersible Pumps – RAD-AX — BJM Pumps
Flex-A-Prene Pump Tubes — Blue-White Industries
Type 8905 Online Analysis System — Burkert Fluid Control Systems
Double Block & Bleed (DBB) Orifice Fitting — Canalta Flow Measurement
Series TUF Ultrasonic Energy Meter — Dwyer Instruments Inc.
Proline Prowirl 200 Vortex Flowmeter — Endress+Hauser
FLUXUS XLF Meter — FLEXIM AMERICAS Corporation
Flowrox Scaling Watch — Flowrox Inc.
Model FT1 Thermal Mass Flow Meter and Temperature Transmitter — Fox Thermal Instruments
Pressure Regulating Valve Family — GF Piping Systems
Manta Ray Portable Area-Velocity Flow Meter — Greyline Instruments
Millipascal Differential Pressure Flow Module — Innovative Sensor Technology
OPTISWIRL 4200 Vortex Flowmeter — KROHNE Inc.
LumiStar3000 LED Luminaire — L.J. Star Inc.
Thermatel TA2 Thermal Mass Flow Meter — Magnetrol International
Model 5700 Advanced, Field-Mount Transmitter — Emerson Process Management - Micro Motion
Rosemount 4088 MultiVariable Pressure Transmitter — Emerson Process Management
Sage Prism Portable Thermal Mass Flow Meter — Sage Metering
Foxboro Model IDP10S Transmitter — Schneider Electric
SITRANS FC410 Coriolis Flow Sensor — Siemens Industry Inc.
qMix Gas Mixing Feature — Sierra Instruments Inc.
420-DC or 420-AC Automated Pilot Control — Singer Valve
Mass Flow Converter APP — Teledyne Hastings Instruments
Wilden Advanced FIT AODD Pumps — Wilden Pump & Engineering, LLC, part of PSG
About Flow Control Magazine:
Flow Control is the leading source for technical information on fluid handling systems design, operation and maintenance. It focuses exclusively on technologies for effectively moving, measuring and containing liquids, gases and slurries. It aims to serve any industry where fluid handling is a requirement.