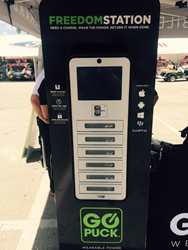 Our partnership with GO PUCK gives everyone with mobile devices the best charging options for any situation—be it for a secure amenity at sporting events, conferences, or on their person while they are on-the-go at outdoor locations, festivals and events.
New York, NY (PRWEB) June 19, 2015
Brightbox, Inc. (http://www.brightboxcharge.com), the leading global platform provider of networked, safe and secure mobile device recharging and engagement solutions, is pleased to announce a new partnership and joint summer marketing tour with GO PUCK, the Florida-based market leader and manufacturer of wearable power and versatile, durable backup batteries for active lifestyle mobile device users.
Brightbox, a New York based B2B kiosk technology company, is the global leader in developing and deploying secure recharging stations for on-the-go people to stay connected via their mobile devices, including cell phones, phablets, backup chargers and batteries. The Brightbox® Mark3 mobile charging platform is the most advanced, innovative and secure mobile device recharging solution available.
Brightbox kiosks are increasingly favored by retail, restaurants, stadiums, theme parks, and other major public venues as well as the experiential events industry, as much for their stylish looks, customized branding, robust digital signage and interactivity applications as their proven safety, charging speed and unrivaled security. The Brightbox® Mark3 features a 10" interactive touch screen, with messaging capabilities that provide effective delivery of direct sponsor videos, slideshows, surveys, customer acquisition, brand offers and product promotions. Venues and experiential marketers can leverage intimate and seamless interactions between consumers and the Brightbox charging kiosk, choosing how to project brand image via an innovative menu of content and interactivity options, for high impact and measurable ROI.
GO PUCK is the solution of choice for outdoor enthusiasts, concert-goers and sports fans, who are on-the-go and require wearable recharging solutions to keep them powered in locations where access to recharging options for their devices is a challenge. GO PUCK's range of products, born from ultra lightweight batteries designed for Formula 1, IndyCar, and LeMans racing teams, has evolved into cutting-edge mobile chargers that store enough power to rapidly charge any device and can be worn, mounted or fit in the palm of the hand.
"Our partnership with GO PUCK gives everyone with mobile devices the best charging options for any situation—be it for a secure amenity at sporting events or conferences, or on their person while they are on-the-go at outdoor locations, festivals and events," said Billy Gridley, Brightbox CEO. "Many outdoor venues and trade show floors are several football fields long and pose unique recharging challenges. By combining the two options we are able to provide a power-hungry public with the best of both worlds."
"We are thrilled to partner with Brightbox. GO PUCK and Brightbox are the technology leaders in their respective spheres of recharging mobile devices," said Blake Fuller, GO PUCK CEO. "With our collaboration, we are glad to be able to provide leading charging solutions to the event-goers and trade show attendees—it'll make for a great tour!"
At the GO PUCK / Brightbox "Summer of Power" tour, guests can conveniently and securely charge up with a Brightbox at the GO PUCK booth or immediately get on the move with GO PUCK portable and wearable power. The partners will be offering unrivaled recharging choices at the these upcoming events:
ICAST 2015: the world's largest sport fishing trade show and the premier showcase for the latest innovations in fishing gear, accessories and apparel. The cornerstone of the sport fishing industry, ICAST is on from July 15-17 at the Orlando Convention Center in Orlando, FL.
Outdoor Retailer Summer Market: the largest outdoor sports show of its kind featuring the latest technical innovations and outdoor sports apparel. The conference provides education to retailers, reps and manufacturers and is held August 5-7 at the Salt Palace Convention Center in Salt Lake City, UT.
Previous stops on the "Summer of Power" tour have been at the Red Bull Global Rallycross in Ft. Lauderdale, FL and the X Games in Austin, TX. Additional summer tour dates will be added as Brightbox and GO PUCK help other festivals, tour organizers and agencies seek solutions to overcome the "Power Gap" at larger events.
Brightbox and GO PUCK provide complementary mobile freedom solutions, enabling everyone with a mobile device to live life charged and engaged. The Brightbox platform provides a great lifestyle product and experience that is a rich opportunity for engagement between connected people, spaces and brands. Also it facilitates trust in public place amenity secure recharging solutions. The UL and agency certified Brightbox stations are Payment Card Industry (PCI) compliant, employ best-in-class end-to-end encryption to ensure the data integrity of phones being charged, and meet the highest standards for security and safety. They offer retractable charging cables and larger chambers that can accommodate nearly any mobile device, including the latest phablets, while delivering the safest and fastest charge possible at optimized manufacturer recommended rates.
 
About Brightbox
Brightbox® is a B2B kiosk technology company providing venues and users with best-in-class mobile device recharging services and a robust engagement platform for marketing, sponsorship and venue digital signage and interactivity. Founded in 2011, Brightbox delivers advanced and innovative solutions and has deployed its secure recharging kiosks in 3 countries and 24 states in a variety of event and vertical markets that include retail, hospitality, entertainment, healthcare, education, transport and beyond.
Enterprise customers include Dream, Hilton, Hyatt, Omni, Sheraton, Caesars, MGM, Christie's, Westfield Malls, Statue of Liberty, Time Warner Cable, New York Red Bulls, Baystate Health, Mount Sinai Health, Orlando Health, Yale New Haven, Health, American Airlines and British Airways. Event customers include AOL, BBC ComicCon, CEDIA, Citibank, Coca-Cola, Detroit Grand Prix, Discovery Channel, Event Tech, FISH Technologies, Gartner, GO PUCK, HBO, IBM, IMEX, InCharged, Intel, Major League Baseball, Minor League Baseball, NFL Experience, Pitney Bowes, Octagon SXSW, PCMA, So Cool Events, Societe Generale, UBS, Verizon, and Wells Fargo. Learn more at http://www.brightboxcharge.com, @brightboxcharge
About GO PUCK:
GO PUCK is a USA based design and manufacturing company offering the only complete mobile power solution designed for active lifestyles by offering a system of solutions providing consumers, athletes and professionals Mobile Freedom. Brought to you by the brain-trust behind Braille Batteries, the leaders in producing lithium-ion batteries for the elite auto racing industry, GO PUCK uses international patent protected technology to produce modular, lightweight portable charger for mobile devices. With a unique mounting system to allow the power to mount to almost anything from backpacks to bicycles to roll-cages, the GO PUCK is revolutionizing mountable and wearable power. For more information, go to http://gopuck.com.