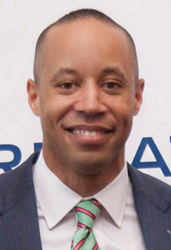 Chicago, IL (PRWEB) June 22, 2015
Hasani Steele of RE/MAX Premier Properties, in Chicago, was recognized for his work in completing residential development projects and rehabbing properties in the Chicago region at the Chicago Association of Realtors® 2015 Good Neighbor Awards in May.
Six of the 37 properties recognized at the event with a Good Neighbor Award were completed with the help of Steele. An additional six projects he was involved in earned honorable mention at the ceremony.
"We really enjoy improving properties and developing vacant lots. It's satisfying when we look back on our projects after completion, experiencing the reality of our vision and reflecting on overcoming the adversities we faced throughout the process," Steele said.
The Good Neighbor Awards showcase ground-breaking new and newly rehabbed or redeveloped properties in the Chicago metropolitan region that have increased economic vibrancy in their neighborhoods and bolstered local pride.
The 2015 honors bring Steele's total to 29 Good Neighbor Awards over the last four years.
"The Good Neighbor Awards are judged by my professional peers, the board of the Chicago Association of Realtors. Each year the bar is raised and I am always thinking of ways to constantly improve and encourage others to do the same," says Steele.
The six 2015 Good Neighbor Award-winning properties in which Steele participated are at 4021 S. Ellis Avenue, 4060 S. Lake Park Avenue, 4234 S. Ellis Avenue, 6543 S. Woodlawn, 817 E. Bowen Avenue, and 840 E. 48th Street. The six properties that received honorable mention were 4162 S. Ellis Avenue, 4546 S. St. Lawrence Avenue, 4330 S. Evans Avenue, 4078 S. Lake Park Avenue, 6522 S. Minerva Avenue, and 133 S. Washington Street in Westmont.
Good Neighbor Awards honorees are individuals who take exceptional care to ensure their properties blend with or otherwise compliment their surrounding streetscapes. Many winning properties offer unique amenities and facilities, often strengthening community pride.
RE/MAX agents consistently rank among the most productive in the industry. In the United States, RE/MAX agents averaged 15.6 years of real estate experience and 16.0 transaction sides in 2014. RE/MAX has been the leader in the northern Illinois real estate market since 1989 and is continually growing. The RE/MAX Northern Illinois network, with headquarters in Elgin, Ill., consists of 2,200+ sales associates and 105 independently owned and operated RE/MAX offices that provide a full range of residential and commercial brokerage services. Its mobile real estate app, available for download at http://www.illinoisproperty.com, provides comprehensive information about residential and commercial property for sale in the region. The northern Illinois network is part of RE/MAX, a global real estate organization with 100,000+ sales associates in 90+ nations.