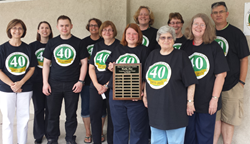 Akron, OH (PRWEB) June 19, 2015
May of 2015, Mature Services participated in the Healthy Steps Corporate Challenge and won the Large Group Category Award, averaging 315,751 steps a week as an organization.
The Ohio and Erie Canalway presented Mature Services with a plaque on June 11th to commemorate the team's victory and take a photo of participating members of the team.
This six week challenge asked participants to record their steps throughout this time period. Soon, Mature Services' headquarters was filled with pedometers of all kinds, and the race was on.
During the Challenge, the Mature Services team totaled 4,756,488 steps with their top three steppers being Debbie Barley, Account Representative for Mature Staffing Systems, John Roberts, Project Director for the Elyria office and Linda Valentine, the recently retired President/CEO of Mature Services.
This is Healthy Step's 11th Annual Challenge, encouraging participants to walk at least 10,000 steps a day to start "stepping your way to a healthier lifestyle." Sue Henige, Director of Human Resources at Mature Services said, "We encourage our staff to participate in events like this as part of a healthy living initiative; this is our first year participating and we plan to return next year."
Mature Services provides high-quality programs to empower the economic, social, physical, and mental well-being of adults as they age including homecare, alcohol, substance abuse and gambling treatment and prevention, mental health counseling, job training, home delivered and congregate meals, volunteer opportunities and emergency food pantry.
Mature Services is an Equal opportunity employer and service provider.