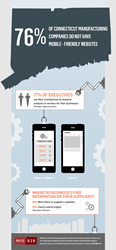 New Haven, Connecticut (PRWEB) June 23, 2015
A new study has revealed that a majority of Connecticut-based manufacturers' websites are not "mobile-friendly," in accordance with standards set forth by Google(™). This could potentially limit growth opportunities for manufacturers in the Nutmeg state, both within the region and beyond.
The study, conducted by Mascola Group, found that over 75% of the websites for manufacturing companies in Connecticut were not properly formatted for display on mobile devices. This is notable because of Google's(™) announcement in April that any website it does not deem "mobile-friendly" will not rank well in the search giant's mobile-based search results. "That could eventually be problematic from a long-term growth and new business lead generation perspective," says Mascola Group's Interactive Specialist, Vin DiGioia.
"The results are shocking," says Mr. DiGioia, "Given the fact that recent industry trends show that 1.) more and more B2B decision-makers are using the web to research new suppliers and 2.) those searches are increasingly happening on mobile devices, it really illustrates how far behind Connecticut manufacturers are, as a whole. Mobile-friendly websites for manufacturers used to be a 'nice-to-have'; now they are a must-have. "
Among the 400 websites reviewed, were Connecticut-based manufacturers operating in a variety of industries and verticals. The websites for each company were tested using Google's online Mobile-Friendly Test tool and results were compiled accordingly.
About Mascola B2B Marketing
Based in New Haven, CT, M//G B2B is the business-to-business marketing arm of Mascola Group is a strategic marketing firm that helps brands and businesses grow and thrive. Working closely with clients, they find the right combination of digital and traditional advertising, web development, public relations, creative thinking, and media planning to "move the needle." For more information please visit http://www.mgb2b.com