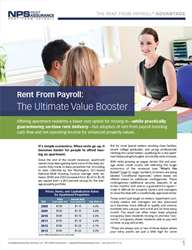 Offering apartment residents a lower cost option for moving in—while practically guaranteeing on-time rent delivery—has adopters of rent from payroll boosting cash flow and net operating income for enhanced property values.
Las Vegas, NV (PRWEB) June 22, 2015
Adopters of Rent From Payroll® from Boston, Mass.-based NPS Rent Assurance® are boosting cash-flow and net operating income for enhanced property values by offering conditionally approved apartment residents a lower cost option for moving in while practically guaranteeing on-time rent delivery.
Recent Rent from Payroll success stories from firms including Gene B. Glick Company, The Lynd Company., Northland Investment Corporation, and others were highlighted in Rent From Payroll: The Ultimate Value Booster, a position paper released at the 2015 National Apartment Association (NAA) Education Conference in Las Vegas, Nevada.
Specifically, rent from payroll results in 66 percent longer resident lengths of stay when compared to conditionally approved renters who were required to provide an extra security deposit, additional months' rent or a guarantor/co-signer to qualify for a lease. Presenting an offer that conditionally approved residents can accept right away rather than requiring them to secure additional move-in deposits and/or a guarantor/co-signer also increases leasing velocity and turn times.
"The simple but revolutionary application of funds for rent coming directly from payroll has seen great adoption across the multifamily apartment industry," said Richard A. Levitan, president of NPS. "As an alternative to guarantors and increased security deposits, rent from payroll is offering property owners and managers with different portfolios and different sub-markets a superior means to move-in more conditionally approved residents while improving net operating income, decreasing bad debt, and increasing resident length of stay."
NPS will join First Advantage, the leading provider of background screening analytics and identity solutions for housing providers and employers, to unveil details of the firms' strategic integration partnership during the NAA Conference at Booth #531.
NPS and First Advantage will also share exclusive NAA Conference results from a survey on security deposit, screening, conversion and rent payment trends among conditionally approved apartment residents.
Among the findings from the survey of 254 First Advantage users:

The biggest operational challenge for property companies today is maximizing occupancy and revenue, followed by improving on-time rent delivery and cash flow.
The average cost for an additional security deposit for conditional acceptances is $500 or greater, a burden which often drives away applicants and hurts the resident's ability to pay rent reliably throughout the lease.
The weighted average of move-out expense is $2,200, equal to 3 month's rent on an average $750 per month apartment.
"By adding rent from payroll to the suite of services we offer our property clients, we are now able to combine the quality applicant screening we're known for with predictive payment insights on conditionally approved residents before rent payment issues arise. These data points are new to the rental housing industry and very exciting," says David Carner, First Advantage senior vice president and general manager, resident solutions.
Conditionally approved residents opt in to the NPS Rent Assurance rent from payroll program prior to lease signing in lieu of paying higher security deposits. Once enrolled, prorated payroll deposits are sent to NPS directly from the resident's employer every pay period. The funds are aggregated by NPS over the course of each month and forwarded electronically for easy accounting match up to participating communities.
Click the link to download a complimentary copy of Rent From Payroll: The Ultimate Value Booster.
Sign up now for the July 17 NPS – First Advantage Webinar.
About NPS Rent Assurance
NPS Rent Assurance® is the originator of Rent From Payroll® and the only rent from payroll direct deposit platform providing the rental housing industry with a proven solution for building incremental occupancy with improved payment performance from conditionally approved and credit denied residents. NPS Rent Assurance is offered exclusively through rental leasing offices as a key component of conditional lease offers and a mechanism to automate work-out plans for existing residents who fall behind in their lease obligations.
About First Advantage
First Advantage, a company of strategic private equity firm Symphony Technology Group, provides comprehensive background screening, identity and information solutions that give employers and housing providers access to actionable information that results in faster, more accurate people decisions. With an advanced global technology platform and superior customer service delivered by experts who understand local markets, First Advantage helps customers around the world build fully scalable, configurable screening programs that meet their unique needs. Headquartered in Atlanta, Ga., First Advantage has offices throughout North America, Europe, Asia and the Middle East.