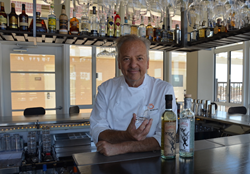 "Bar Alto is a destination for food, libations and camaraderie," said chef John Rivera Sedlar.
Santa Fe, New Mexico (PRWEB) June 19, 2015
John Sedlar announces today that he will open Bar Alto, the sister bar of John Sedlar's ELOISA Restaurant, located atop the Drury Plaza Hotel. The bar's elegant menu incorporates a regional twist: chilled oysters with serrano chile mignonette, assorted Spanish cheese plates and specialty tacos. A contemporary Latin cocktail list created by both chef Sedlar and principal bartender, Joseph Haggard, harmonize with the small plates menu.
The glass-enclosed-bar, designed by architect Tiho Dimitrov and interior designer Laura Carpenter, is a sleek addition to Santa Fe's nightlife and the perfect environment to sip mezcal-centric cocktails like the Agave Pasado: a blend of aged mezcal, Bitter End Mexican mole bitters and agave syrup. Access to the rooftop bar is through the Drury Plaza Hotel lobby via the elevator to the fifth floor.
Bar Alto, named in honor of Santa Fe's legendary Alto Street, is described by chef John Sedlar as, "a destination for food, libations and camaraderie." Sedlar's grandmother Eloisa Rivera, for whom the restaurant ELOISA is named, lived on Alto Street for 60 years. Eloisa was a woman of great hospitality—hosting poker games and cooking up New Mexican classics while pouring spirits, cervezas and vinos.
Chef John Sedlar, a New Mexico native, left the state 40 years ago to launch his culinary career in Los Angeles, California. Sedlar has returned to Santa Fe to immerse himself and his kitchen brigade in updated Northern New Mexico specialties.
Principal bartender, Joseph Haggard also grew up in Santa Fe. Haggard's training is rooted in a combination of classic and modern bartending styles learned under the guidance of Tim Lacy and some of Chicago's most influential bartenders. Haggard went on to develop an award-winning bar program in Providence, Rhode Island at The Grange with chef Jonathan Dille.
Haggard's philosophy at ELOISA and Bar Alto is firmly based in his experiences of the flavors, aromas and colors of his childhood exploring the mountains and deserts of Northern New Mexico. Bar Alto is open daily from 4pm—10pm.
ELOISA is now serving lunch from 11:30am—2:30pm Monday through Friday. Beginning July 27th, ELOISA will expand its hours to include lunch on Saturday and Sunday. New lunch menu items include the Southwest Salmon Niscoise with tequila vinaigrette— a perfect hybrid of Sedlar's Southwest and classic French-inspired cuisine. Free parking, for both Bar Alto and ELOISA, is located in the surface lot of the Drury Plaza Hotel.
For media inquiries, contact:
Audrey Nadia Rubinstein
505 490 1837
audrey(at)jlhmedia(dot)com
###
About ELOISA
ELOISA, Chef John Sedlar's newest restaurant, opens in Santa Fe. The menu marries Latin and Southwestern flavors with regionally specific Northern New Mexican classics. Preparations feature premium, locally sourced ingredients and tasting menus that explore Latin history and local culture. Refreshing cocktails compliment ELOISA's earthy, nourishing menu. ELOISA's warm, inviting design is a place to dine with friends and family.
###
About Bar Alto
Bar Alto located atop the Drury Plaza Hotel, is John Sedlar's newest rooftop bar in Santa Fe, New Mexico. Principal bartender, Joseph Haggard has stocked the bar with specialty liquors from around the globe with a focus on the world's best selection of mezcal and craft cocktails. Bar Alto also serves small plates: chilled oysters, specialty tacos, Spanish ham, and Spanish cheese.
###
About Chef John Rivera Sedlar
Critically acclaimed New Mexican born chef, John Rivera Sedlar returns to his New Mexican roots to open ELOISA in Santa Fe. Chef Sedlar is known for his revered Los Angeles-based restaurants Playa and Rivera. After closing at the end of 2014, Rivera will open again in a larger space in West LA. Sedlar is a Latin American food scholar and master chef who has been featured on Bravo television's Master Chef and was named Chef of the Year by Esquire Magazine; additionally, Sedlar wrote the seminal Southwestern cookbook, " A Guide to Modern Southwest Cooking."