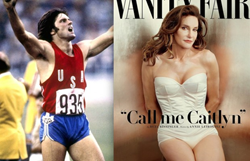 I want a natural enhancement to my breasts and an hourglass waistline
Las Vegas, NV (PRWEB) June 24, 2015
Caitlyn Jenner's 20/20 interview with Diane Sawyer had over 20 million viewers, according to Wikipedia, making it television's highest rated newsmagazine telecast ever. Coming out as a trans-woman, Caitlyn has dealt with gender dysphoria since her youth. Quoting "I am a woman," her transitioning is one of the biggest topics circulating all over the nation and bringing to light what other people of the transgender community are going through today.
Caitlyn's interview was the final encouragement needed for Ricky B., a long time transgender individual, to find MyShape Lipo, a liposuction specialty clinic in Las Vegas. "After watching Jenner's interview I was truly inspired to finally embark on my own personal journey, a journey that I have been putting off for so long. But I'm ready now to show the world my true self," Ricky B says.
According to studies done at UCLA, there are approximately 700,000 transgender individuals in the United States. There are many unique issues that this group faces. Other than the social stigma and lack of acceptance, they typically have a strong desire that their body matches how they feel on the inside.
MyShape Lipo is among a handful of clinics in the country that have specialized specifically in liposuction. Trevor Schmidt PA-C, the owner and liposuction specialist has been practicing liposuction for over 9 years and has performed an excess of 15,000 procedures. He understands the importance of wanting to look good, feel confident in your body, and be comfortable in your skin.
Ricky B. states, "I chose to come to MyShape Lipo because not only are the prices so affordable, but I did not want to have to go through extensive surgery. I want a natural enhancement to my breasts and an hourglass waistline to achieve that feminine look that I am going for. After doing my research and finally speaking with Trevor, I'm confident that he can help me bring my vision to life."
Fat transfer to the breast increases the breast size and is an easy and more natural alternative to breast implants. "Implants can enlarge the breasts, but they appear fake and unappealing. Implant surgery is also very hard to recover from, requiring many days or even weeks off from work." Schmidt says. "With a fat transfer and liposuction I can provide Ricky with a smaller waistline and the sexy curvatures that she and so many other woman crave."
Specializing primarily in liposuction, MyShape also offers fat transfer to the breast, butt, face and hands for a natural cosmetic improvement. In addition, they also offer Smart Lipo laser skin tightening for those that are concerned about loose skin following their liposuction procedure.
Many transgender people start down the path to complete their change and they are faced with a number of obstacles and decisions to make. At MyShape Lipo, they offer a more natural enhancement at an affordable rate with less downtime and minimal hidden scars.
"This procedure is very popular, not only with woman, but amongst the transgender community as well. The surgery is less complicated, the recovery time is shorter, and it avoids complications associated with implants. If you are looking for natural and attractive looking results, fat transfer is definitely the way to go," says Schmidt.
About MyShape Lipo
Located in Las Vegas, MyShape Lipo is a specialty liposuction clinic who attracts patients from around the world. Trevor Schmidt PA-C, the liposuction specialist has the experience of over 15,000 liposuction procedures on all shapes and sizes. All of their procedures are completed with local anesthesia, which is the safest and most cost effective way. They offer complimentary "Body Shape Analysis" in person for locals or via the phone for their out of state patients. Call now to schedule yours, 702-818-5476.