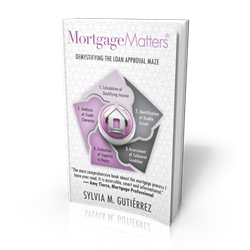 Mortgage Matters Is A Must-Read For Borrowers, Realtors, And Lenders
Miami, FL (PRWEB) June 22, 2015
Mortgage Matters
Demystifying the Loan Approval Maze
By: Sylvia M. Gutiérrez
Publisher: RealWorks Press
Publication Date: June 22, 2015
Price: $24.95 paperback ISBN: 978-0-9904004-1-7
Price: $9.99 eBook ISBN: 978-0-9904004-0-0
In Mortgage Matters, seasoned residential mortgage loan officer Sylvia M. Gutiérrez thoughtfully guides the mortgage applicant through a step-by-step analysis of the home lending process, providing tools and tips, in easy to understand language, allowing the borrower to:

Reduce anxiety over the unknown
Expedite the loan decision
Ensure an accurate credit report
Get the very best loan terms for their particular situation
Minimize interest costs over the life of the loan
Understand how new mortgage laws and financial reform are affecting the process
"Most borrowers are not aware of the different choices available to them in mortgage lending," writes Gutiérrez. "They're only focused on looking for the best interest rate." One size does not fit all in the highly complex mortgage market. As a result, many borrowers fail to match themselves with a lender and loan program that will produce positive results.
With rumblings of a general dissatisfaction arising from "lenders issuing too many requests for additional (or the same) documents throughout a lengthy decisioning process", Gutiérrez shares her insight to minimize file touches. "The housing industry is focused on connecting with the growing market of future homeowners comprised of Millennials and Hispanics. The first step in reaching these communities is making the process easier to understand."
###
About the author
Sylvia M. Gutiérrez is a mortgage professional. A residential mortgage loan officer since 1993, Sylvia has assisted thousands of families in the mortgage application process, through various market cycles, and sweeping regulatory changes. She has a degree in Finance from Florida International University, has worked for one of the Big Three, a regional bank, a community bank, and a mom-and-pop shop. At publication, Sylvia serves as a director on the board of the South Florida Chapter of the Mortgage Bankers Association and on the Diversity & Inclusion Committee for the National Association of Mortgage Professionals as Vice Chair for Fair Lending topics. She is fluent in English and Spanish and is available for interviews.
SylviaGutierrez.com
MortgageMattersBook.com
Twitter.com/Gut2bMe
Facebook.com/MortgageMattersBook
Instagram.com/Mortgage_Matters