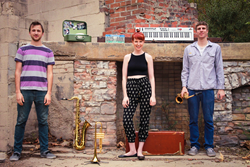 Los Angeles, CA (PRWEB) June 20, 2015
Downtown Los Angeles dwellers and tourists can kick off their weekend once a month with beats and bites at the debut of Sounds of LA at FIGat7th, a free music series presented by Arts Brookfield July 11 through November 14, 2015. FIGat7th TASTE Courtyard is the perfect backdrop for Sounds of LA, offering concertgoers an array of dining and retail options that make for a perfect day party full of music, food, fashion, and fun. Sounds of LA at FIGat7th will offer an eclectic snapshot of the contemporary music scene. This season features the unique point of view of a local singer songwriter, the alternative pop sounds of a Chicago quartet, and neo Jazz stylings of an LA-based jazz trio. KCRW DJs will be on hand to spin tunes and host the shows. The concerts are free, all ages, and open to the public monthly on every second Saturday from 5:00 p.m. – 8:00 p.m.
Sounds of LA is presented by Arts Brookfield, the same presenters of the annual FIGat7th Downtown Festival scheduled to run every Friday night July 10 through August 28. Arts Brookfield is a leader in downtown LA arts and entertainment offerings, with world-class cultural experiences and free signature outdoor music events at Brookfield's premier downtown properties. From concerts, theatre, and dance to film screenings and art exhibitions, Arts Brookfield brings public spaces to life through art.
Sounds of LA at FIGat7th will feature Blah Blah Blah and KCRW DJ Garth Trinidad on July 11 and August 8 with KCRW DJ Anthony Valadez, Sam Marsey and KCRW DJ Aaron Byrd on September 12, Moonchild with KCRW DJ Aaron Byrd October 10 and November 14 with KCRW DJ Raul Campos. To learn more about this music series and other Arts Brookfield events visit http://www.ArtsBrookfield.com/figsoundsofla.
SCHEDULED PERFORMANCE LINE-UP:
7/11 | BLAH BLAH BLAH with KCRW DJ Garth Trinidad
Comprised of two friends from Iowa and two Chicago musicians, the midwest quartet found their footing in 2010 after being voted one of the Chicago Tribune's next bands on the verge of breaking BIG-TIME. Pioneering the genre of ballroom rock, the band has continually won fans over with their emotionally-driven yet upbeat songs that playfully strike a balance between the alternative and organic. (Sonicbid)
According to charismatic frontman Solomon David, "We make music that is optimistic and resonant and warm, that takes people to a place of fantasy." (Chicago Tribune)
Garth Trinidad is a modern day griot—a DJ, artist, culture critic who employs various platforms to frame a stylish narrative that celebrates creative independence. His award winning international mix of music has been heard on KCRW's airwaves since 1996. Regarded by press and peers as a key influencer of global music culture, Garth has introduced the world to such artists as Little Dragon and Janelle Monae, interviewed the likes of Quincy Jones and Yoko Ono, and is credited in part with shaping LA's modern music landscape.
8/8 | BLAH BLAH BLAH with KCRW DJ Anthony Valadez
LA native Anthony Valadez became a music fan the minute he heard the opening notes of "Theme from Mahogany" by Diana Ross on the radio in the family car. In addition to his Monday night (midnight to 3am) radio show, he has hosted events at the Hollywood Bowl and SXSW and CMJ. He has remixed songs by David Bowie, Ozomatli and Local Natives and released four studio albums of original material.
9/12 | SAM MARSEY with KCRW DJ Aaron Byrd
A uniquely fresh and yet entirely familiar sound has been brewing in a small town 60 miles east of Los Angeles for the past 4 years. Sam Marsey has been sitting in at countless jam sessions, open mics, and late night watering holes, perfecting his soulful jazz/funk guitar sound and becoming intimately comfortable with his sultry and powerfully expressive voice. With his soothing delivery and emotional lyrics, he seamlessly invites every listener in to share his humble and contemplative perspectives on relationships, self-respect and the priceless impact of a positive and caring outlook. After assembling a band of remarkably talented musicians from his native Inland Empire, Sam Marsey is currently recording his debut EP and poised to become one of LA's most promising fresh faces in the Indie and Soul music scenes.
Since his start at KCRW in 2007, Aaron Byrd has appeared on the front page of the New York Times and in both the LA Times and LA Weekly. He is called on to curate a wide range of events around town, from post-performance events at the LA Opera to a weekly live performance series at a boutique West Hollywood hotel. As a DJ, Byrd has opened for Groove Armada, James Blake, Fat Freddy's Drop, Little Dragon, and Jose James and is regularly featured at clubs around town.
10/10 | MOONCHILD with KCRW DJ Aaron Byrd
With only a couple of albums under their belt – 2012's Be Free and 2014's Please Rewind – horn/reed players Andris Mattson, Max Bryk, and Amber Navran of the jazz and soul trio Moonchild have built a considerable following among both the neo-soul-hungover crowd and traditional jazz lovers who don't mind the genre's evolution. For much of this, we have lead singer Amber Navran to thank, whose voice whistles and whooshes in and out of the band's soul claps, horn melodies, and synth shades. This is most evident on Please Rewind's "Don't Wake Me," "Just A Minute," and "Nobody," on which Navran's voice evokes Erykah Badu-esque charm, but with a vocal-defying soprano that's almost too cool for jazz and too controlled for soul. An arresting voice like hers knows no boundaries, and her bandmates Max and Andris create lush templates to adapt to any genre while still maintaining a jazz aesthetic. The end result is an infallible cross-breed of lush boom bap and soul power, aligning with Moonchild's orbit. It's no wonder artists like Stevie Wonder, Jill Scott, Robert Glasper, James Poyser, Jazzy Jeff, 9th Wonder, Giles Peterson, and Leela James have been singing their praises. (Eric Tullis, Art Of Cool Festival 2015)
11/14 | MOONCHILD with KCRW DJ Raul Campos
The voice of pirate radio in the mid-'90s and a native Angeleno, Raul Campos has come from the underground to represent the eclectic airwaves of KCRW. After many years of the night shift, he moved to weekends from 3pm to 6pm in August 2013. Campos still loves to rock the club and has been billed along with some of the world's biggest talents, including deadmau5, Moby, Louie Vega, and Paul Van Dyk to name a few. He's also opened for some of music's greatest artists, from Martin Gore (Depeche Mode), Stevie Wonder and Cafe Tacuba, to Booka Shade, Groove Armada and Lionel Richie. You can catch him in the mix all over town.
About Arts Brookfield
Arts Brookfield invigorates public spaces through the presentation of free cultural experiences in Brookfield's premier buildings around the world. By commissioning, producing, and presenting world class works of art, Brookfield supports creativity and innovation in the fields of music, dance, theater, film, and visual art. Visit ArtsBrookfield.com for more information.
About FIGat7th
FIGat7th, located at the intersection of Figueroa and 7th Streets, has become downtown LA's premier shopping and dining destination and a major player in the revitalization of downtown Los Angeles. FIGat7th continues to announce and open the city's most sought-after fashion retailers and chef-driven dining options in the region. Go to http://www.figat7th.com to schedule your visit.
Handles: @artsbrookfield, @FIGat7th, @KCRW, @blahblahblahchi, @garthtrinidad, @thisismoonchild, @itsAByrd, @sam.marsey, @raulcampos, @anthonyvaladez
Hashtag: #SoundsofLA #FIGat7th
# # #