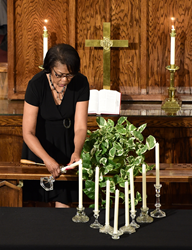 We pray that human rights will be preserved so that all people may believe and worship freely, so that freedom will once again be seen in our land.
Los Angeles, CA (PRWEB) June 19, 2015
Scientologists of Los Angeles and throughout the country stand today with the families of Rev. Clementa Pinckney and all those, gathered in peaceful prayer, who fell victim of the senseless hate crime in Charleston.
At an all-faith prayer vigil at the First African Methodist Episcopal Church on South Harvard Boulevard in Los Angeles, joining pastors, rabbis, Buddhist monks and other leaders representing the varied faiths in Los Angeles, Church of Scientology International Vice President Bob Adams delivered a message of hope on behalf of Scientologists everywhere:
"The gunman's actions were the work of the criminally insane," he said, "and when confronted with the level of evil we have just witnessed, it can be hard to hold onto our faith in our fellow man."
As have many religious leaders gathered in L.A. and across the country, in memory of the nine killed in Charleston on Wednesday, Adams urged people to work together to heal our communities.
"It is our belief," he said, "as expressed by our Founder L. Ron Hubbard, that 'Happiness and strength endure only in the absence of hate. To hate alone is the road to disaster. To love is the road to strength. To love, in spite of all, is the secret of greatness, and may very well be the greatest secret in this universe.' "
Amid the tragedy and loss in Charleston, Adams noted that Scientologists everywhere are reminded of the Scientology Prayer for Total Freedom:
"May the author of the universe enable all men to reach an understanding of their spiritual nature.
May awareness and understanding of life expand, so that all may come to know the author of the universe.
And may others also reach this understanding, which brings Total Freedom.
At this time, we think of those whose liberty is threatened; of those who have suffered imprisonment for their beliefs; of those who are enslaved or martyred, and for all those who are brutalized, trapped or attacked.
We pray that human rights will be preserved so that all people may believe and worship freely, so that freedom will once again be seen in our land.
Freedom from war, and poverty, and want; freedom to be; freedom to do and freedom to have.
Freedom to use and understand Man's potential—a potential that is God-given and Godlike.
And freedom to achieve that understanding and awareness that is Total Freedom.
May God let it be so."