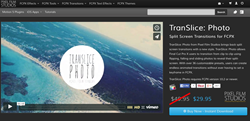 Designed for Final Cut Pro X, users can simply drag and drop the transition they want between two of their film's clips and then adjust the look. Editors can instantly give their film the style it needs with just a few clicks of a mouse!
Aliso Viejo, CA (PRWEB) June 21, 2015
TranSlice Photo from Pixel Film Studios brings back split screen transitions with a new style. TranSlice Photo allows Final Cut Pro X users to transition from clip to clip using flipping, falling and sliding photos to reveal their split-screen. With over 36 customizable presets, users can create endless animated transitions without ever having to set a keyframe in FCPX.
TranSlice Photo brings the split screen transition back with another unique style. Final Cut Pro X users can now transition from one screen to the next with falling, flipping or sliding photos.
TranSlice Photo gives FCPX users over 35 customizable animation presets to make each transition unique. With every panel orientation and direction covered, no transition will look like the next!
With easy-to-use controls found in the FCPX Inspector window, editors can quickly customize their TranSlice transitions to fit any scene.
"Final Cut Pro X is lacking some essential plugins. We intend to satisfy the needs of fans of FCPX around the world and get them what they need," said Christina Austin, CEO of Pixel Film Studios.
Pricing and Availability:
The Pixel Film Studios Plug-ins are available today through the Pixel Film Studios website starting at $29.95 USD. For more information, please visit the Pixel Film Studios website.
Established in 2006, Aliso Viejo, California-based Pixel Film Studios is an innovative developer of visual effects tools for the post-production and broadcast community. Their products are integrated with popular non-linear editing and compositing products from Apple FCPX. Apple, the Apple logo, Mac OS X, and Macintosh are registered trademarks of Apple Inc. in the U.S. and/or other countries. All other trademarks and trade names are the property of their respective owners.