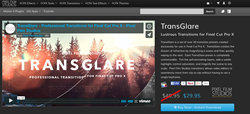 Final Cut Pro X is lacking some essential plugins. We intend to satisfy the needs of fans of FCPX around the world and get them what they need, said Christina Austin, CEO of Pixel Film Studios.
Aliso Viejo, CA (PRWEB) June 22, 2015
TransGlare is a set of over 30 transition presets created exclusively for use in Final Cut Pro X. TransGlare creates the illusion of refraction by magnifying a scene and then quickly wiping to the next.
TransGlare features 30 beautifully designed wipes that allow video editors to transition seamlessly from scene to scene. TransGlare presets magnifies the video layer to create the illusion of refracting layers between scenes. Pick and choose from presets that animate from every direction to add a simplistic effect to any video production.
TransGlare allows users to adjust the amount of animation of each layer. Wipe away the initial scene slowly or quickly with the drag of a slider. Additionally, control the pan amount of each animating layer to add constant motion between video clips.
Using Pixel Film Studios transitions is as easy as dragging and dropping. Scroll over TransGlare presets to preview animations in FCPX. Drag the desired preset between video clips and alter the duration of the transition by pulling on its edge. TransGlare will do the rest.
Pricing and Availability:
The Pixel Film Studios Plug-ins are available today through the Pixel Film Studios website starting at $29.95 USD. For more information, please visit the Pixel Film Studios website.
Established in 2006, Aliso Viejo, California-based Pixel Film Studios is an innovative developer of visual effects tools for the post-production and broadcast community. Their products are integrated with popular non-linear editing and compositing products from Apple FCPX. All Apple, the Apple logo, Mac OS X, and Macintosh are registered trademarks of Apple Inc. in the U.S. and/or other countries. All other trademarks and trade names are the property of their respective owners.