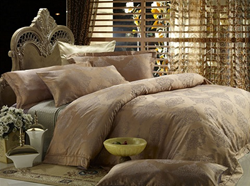 As a rule of thumb, the fabric will mostly resemble whichever material the fabric is primarily made of, but a well made blend should exhibit the best qualities of all the different materials it contains.
(PRWEB) June 24, 2015
HomeThangs.com - the Online Home Improvement Store - has made their goal to deliver the right product to the consumer. With that in mind, shopping and home design tips, as well as special product selections, are being introduced.
Thread count used to be the only metric needed to understand the quality of a set of bedding, but changes in materials used – as well as the manufacturing process itself – have made that all-important number all but useless. HomeThangs.com has introduced a new guide to understanding what really makes quality bedding, as well as a few tips on what to look for in order to find the right fit.
Because sheets are now almost exclusively machine woven, and because those machines are capable of complex weave patterns, it's possible to create sheets that have a very high thread count, but that aren't necessarily superior in terms of texture or durability. What matters more is actually the material the bedding is made of; HomeThangs.com's new guide looks closely at the most common natural, artificial, and synthetic fibers, as well as some of the advantages and drawbacks of each. While cotton is still the most common material used, it isn't the only option, and blended fabrics that combine two or more materials are rapidly becoming more popular. Each type of fabric has its own distinctive characteristics, and this simple guide explores how to pair the right bedding with the person who will be using it.
For a more in depth look at choosing the perfect bedding, check out the full article here.
HomeThangs.com is not only a home improvement superstore, it also provides expert design tips and a comprehensive shopping guide, taking the ideas from professional interior designers, and offering tips to the consumers on how to pick the products to best suit their needs.