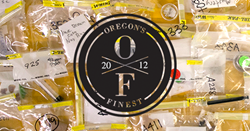 There's a larger problem here, one that affects all legal cannabis in the state of Oregon.
Portland, Oregon (PRWEB) June 24, 2015
A recent article in The Oregonian/OregonLive by Noelle Crombie, "A tainted high" takes an in-depth investigative look at how pesticides in cannabis production are regulated and tested in Oregon state labs. The Oregonian recently hired OG Analytical (known to have the most high precision cannabis testing analytical equipment in the state), and molecular biologist Rodger Voelker to test 10 different cannabis concentrate samples for pesticides. These were picked up from several unnamed Oregon dispensaries and sent to two labs for further testing. The other lab was Pacific Agricultural Laboratory, a Portland lab that specializes in detecting pesticides on foods and agricultural commodities. Both found pesticides in the concentrates that shouldn't have passed the State allowed "safe" level for Medical Marijuana Dispensary (MMD) cannabis.
What does this mean for Oregon's Finest (OF) products? As soon as Dab-Society shared with us that Noelle was writing this article and informed us that we carried similar products, we immediately sent a representative sample of all similar product batches carried by Oregon's Finest to OG Analytical for pesticide testing of our own. As required by Oregon MMD law we already test all of our products according to State HB3460 standards. In addition to minimum state standards, Oregon's Finest is also third party certified to Clean Green handling standards—similar to USDA Organic certification, but for cannabis retailers. Oregon's Finest became one of Oregon's first two Clean Green Certified cannabis retailers in July of 2014—sofresh farms and TJ's gardens were two of the first cannabis growers to become Clean Green Certified in Oregon.
Knowing that testing labs can only find what they are looking for, Oregon's Finest requires that all flower vendors complete a "transparency agreement" and affirmatively document all products used in the cultivation of their flowers before they will be sold at our store. We do this so that any patient who may have an adverse reaction to a specific product can request to see "how their cannabis was made." We have now shared this transparency agreement with Dab-Society and are happy to share it with any other retailers, processors and growers that are interested in using it as an additional layer of safety to help keep harmful pesticides and other potentially dangerous contaminants out of our medical cannabis.
In addition to helping processors and retailers better evaluate their clean cannabis supply options through grower transparency; Oregon's Finest also wants to help other dispensary owners, PRF's, processors and growers transparently identify the labs that have the proper equipment, personnel and business practices to meet the needs of medical patients in Oregon. Vendors and customers alike should look forward to Oregon's Finest's, "2015 Lab Assessment and Batch Testing Recommendations." We hope this analysis that we plan to release soon will help shed transparency about which labs we believe are good at testing for each portion of Oregon's HB3460 requirements.
"But there's a larger problem here, one that affects all legal cannabis in the state of Oregon." Says Oregon's Finest managing member, Troy Haworth. As Crombie's article points out — not all Oregon labs test for all common cannabis pesticides, and many don't test cannabis as strictly or for the same chemicals and pesticides as they do for food. What this means is that if a cannabis product fails the batch test at one lab that happened to detect a pesticide or mold, the processor can just take it to a different lab that might not test for the particular pesticide or mold, in order to get a lab certification. Oregon doesn't currently keep track of cannabis that failed pesticide or mold tests, leaving the onus on the grower, processor or retailer to keep the product off the shelves. Additionally, testing labs have stated that some growers and processors will just place lab certifications on products that were never actually tested in a lab; or worse yet, were failed in a lab, then had the test results fraudulently changed!
We believe, Oregon has its work cut out for it in terms of regulating lab testing for the cannabis industry and developing functional chain-of-custody systems. The Oregon Liquor Control Commission (OLCC oversees the recreational industry) has already started the process of setting lab standards and regulating recreational cannabis producers, but they are only just getting started and likely will not finish the process until October 2016. The issue isn't always with the individual grower, processor or retailer either – pesticide traces can appear on cannabis even if they were actually used by the next farm over, or linger in tools, equipment and solvents that previously processed pesticide-laden plants…even after the machines have been thoroughly cleaned. This is another complication for retailers who truly strive to keep their products pure, pesticide-free, and safe for consumption.
So we'd like to hear from you. How concerned are you about pesticides in cannabis products, particularly extracts? How will this affect your consumption of these products? Share your opinions with Oregon's Finest.