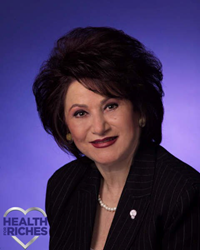 I realized that despite my success in real estate, I was just trading time for money.
Toronto, Canada (PRWEB) June 25, 2015
Ahuva has been in the business world for the past 40 years, and is a highly successful real estate broker from Toronto Canada; in addition, she built an extremely successful career in Worldwide Direct Marketing Sales. The idea of a balanced lifestyle along with the reality of residual income that is possible in the Direct Sales industry really appealed to Ahuva. She says "The whole package: work from home, create your retirement, earn residual reproductive income, do more for society, and have more time for your family to enjoy your loved ones -was exactly what I wanted. I realized that despite my success in real estate, I was just trading time for money. My exchange rate of dollars to hours might have been better than many people enjoy, but it was still a trade nonetheless. I was on a career treadmill from 7am to midnight daily. I couldn't stop running because the money was too good. But because there was not residual income in the real estate industry, I had to start the sales cycle over constantly. Thus, there was no free time for reaching out to others or even my friends and family."
Ahuva attributes her success to her attitude, commitment, discipline, determination, vision, and passion.
Ahuva Simone's dynamic personality, passion, and confidence, are captivating and undeniably the reasons why she has become a global leader in the direct sales arena. Productive activity, commitment and compassion have propelled Ahuva to success, and she has been an example for thousands who have joined her successful global team. "The more you give and help others, the more you'll get in return."
"I am grateful for the opportunity given me to achieve in my life and help others to do the same worldwide. We are in the business of relieving those suffering from stress - both physically and financially. Network Marketing has the solution and a future for everyone everywhere."
Ahuva says:
"My real estate firm was highly reputable. I served on boards and committees in my industry. It was difficult to imagine someone in my position doing network marketing. But I discovered that this industry is filled with serious and successful people who have integrity."
Even outside the boundaries of the real estate industry, Ahuva had long known about the importance of leadership due to challenges in her personal life. "I had been a single mother for many years. I learned that if I could move through my own mental barricades, I could get past any problem in life. Ahuva says "As long as I have me, I'm safe. Our fears are the primary obstacles to accomplishing anything in life." Ahuva has not only lived this philosophy herself, but has successfully taught it to others as well.
More information is available on, and you can contact Ahuva through, http://www.HealthForRiches.com
ASEA Founders Verdis and Tyler Norton, ASEA CEO Chuck Funke, and ASEA President Jarom Webb extend a warm welcome to Ahuva and look forward to partnering with her to create success around the globe. ASEA has developed the world's first and only Redox Supplement. ASEA's products deliver balanced, stabilized bio-active redox signaling molecules to the body. ASEA recently advanced into the top 100 Direct Sales Companies in the world per DSN global 100.