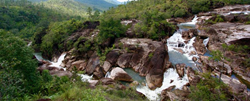 Imagine studying with such an experienced, highly regarded professional photographer while participating in activities in what has to be one of the most photogenic locations on Earth
San Ignacio, Belize (PRWEB) June 23, 2015
An innovative new photography workshop vacation package that combines hands-on instruction by a highly awarded professional with adventurous activities in stunning natural locations has just been announced by The Lodge at Chaa Creek in Belize.
Chaa Creek co-owner and GM Lucy Fleming said that James Millar, who for over twenty years has published news, sport and features photographs for a number of British and international publications, and has twice received the Bank's Press Photographer
Newspaper Photographer of the Year Award in the UK, will be conducting intensive, hands-on workshops during an all-inclusive "Photo-Safari" vacation package in Belize from November 14 to 21 2015.
According to Ms Fleming, the all-inclusive Belize vacation package includes five nights accommodation at The Lodge at Chaa Creek as well as all meals, transfers, tours, activities and access to all amenities within Chaa Creek's 365-acre private nature reserve, with an additional two day photo-excursion to Caye Caulker, a tiny Caribbean island near the Belize Great Barrier Reef.
"We feel fortunate in being able to work with Mr Millar to offer such an exciting opportunity. Imagine studying with such an experienced, highly regarded professional photographer while participating in activities in what has to be one of the most photogenic locations on Earth.
"It's a true learning adventure," Ms Fleming said.
Mr Millar said that the course will cover photography and camera basics before progressing to "interesting techniques and fun assignments based on what students have learned."
He will then circulate among the students to offer guidance and one-on-one instruction while they work. Each following day will begin with Mr Millar explaining new techniques and then having students employ them under his guidance.
"Then, when everyone has a good collection of images in camera, we go back and go through the images. I will then invite the students to review and edit down their pictures and we will look at the fineries of post-production and offer guidance and ways to improve the pictures,"Mr Millar explained.
Ms Fleming said that the package has been designed to offer participants intensive, professional instruction while they enjoy a wide-ranging Belizean vacation.
"We worked with Mr Millar to craft a package that allows students to develop skills and learn creative photography techniques while participating in a range of exciting activities such as horseback rides along beautiful jungle trails, excursions to the Maya temple at Xunantunich, visits to the colourful San Ignacio markets and more. With such pristine nature, stunning Blue Morpho butterflies, brilliant tropical flowers and birds, there will be no end of interesting subjects and landscapes to shoot," she said.
Ms Fleming emphasised that Chaa Creek's all-inclusive vacation packages include everything needed for a complete holiday.
"From the moment participants arrive at Belize's international airport they'll be well looked after, with a visit to the Belize Zoo on the ride to Chaa Creek before moving into eco-luxe cottage accommodation at the resort. With our fine-dining restaurant and lounge, infinity pool, spa, stables, canoe fleet, miles of jungle trails crisscrossing a 365 acre private nature reserve, there's plenty to do and countless chances to capture some incredible images," she said.
Ms Fleming said that participants can extend their experience with a two day stay at Caye Caulker, a small island off Belize's Caribbean Coast near the world's second largest barrier reef, where participants will have an opportunity to experience Belize's Caribbean Sea while Mr Millar offers instruction in night photography.
"We'll be doing some low light-photography such as pictures by moonlight, using tripods, and capturing moving elements such as breaking waves," he explained.
Ms Fleming said that the Caye Caulker option will include water taxi transfer to Caye Caulker on arrival and airplane transfer from Caye Caulker to Belize International on departure, with Island accommodations, all meals and a full day snorkelling tour included.
"Once again, it will be an all-inclusive option and a great way to conclude what I'm sure will be the learning adventure of a lifetime," she said.
Ms Fleming advised that due to the one-on-one experience Mr Millar wishes to deliver, space is limited, and interested parties may contact Chaa Creek or their travel agents for further details or to make bookings.
"We expect that participants will return home with greatly enhanced skills and an amazing collection of images as well as having had an extraordinary vacation with like minded people sharing a common artistic passion. It really will be a life-changing experience that I'm personally looking forward to," Ms Fleming said.
The Lodge at Chaa Creek is a multi award winning eco resort set within a 365-acre private nature reserve along the banks of the Macal River in Belize.
ENDS