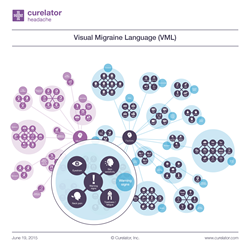 Much of the public information on the Internet about migraine triggers is simply mythology.
Cambridge, MA (PRWEB) June 24, 2015
Curelator Headache, a novel digital platform that enables people with migraines to identify possible "triggers" and "protectors" associated with their attacks, presented positive compliance data on June 19, 2015 at the American Headache Society (AHS) 57th Scientific Meeting in Washington, D.C.
One of the biggest challenges in medicine is creating patient-oriented technologies that are easy to use when daily patient action is required. For Curelator Headache, migraine patients need to enter data for 45-90 days to allow the platform to identify and predict the complex array of factors that both trigger and mitigate their attacks.
To address the bottleneck of sustained user entry, Curelator Headache developed a Visual Migraine Language containing factors commonly believed to be important in migraine. The Company subsequently recruited a total of 511 migraineurs online and between November 2014 and January 2015 conducted the largest prospective study ever undertaken in migraine to evaluate a mobile data interface.
Out of an initial 511 users: 375 tried the platform for more than 2 days; 278 (74% of 375) went on to use it for more than 45 days, and 218 (58% of 375) used the platform for more than 90 days, entering adequate data to allow generation of Individual Trigger and Protector Maps.
"The vast majority of patients who tried Curelator for at least two days entered sufficient date to generate a complete and individual analysis of all the factors associated with increasing and decreasing the risk of their migraine attacks," explains Alec Mian, PhD, CEO of Curelator Inc. He adds, "We were also able to provide a list of all the factors that were not associated with their attacks. This list often included factors that patients were actively avoiding, but apparently for no good scientific reason."
Says Stephen D. Silberstein, MD, Professor of Neurology, Director of the Jefferson Headache Center at Thomas Jefferson University, and a member of the Curelator Headache Advisory Board, "Much of the public information on the Internet about migraine triggers is simply mythology. Curelator Headache's comprehensive list of triggers and protective factors is an important starting point in untangling the complex interaction between individuals and their environment, which is associated with migraine attacks."
The AHS presentation is titled, "Use of a Visual Migraine Language as part of a new data entry interface that identifies possible migraine triggers and premonitory symptoms." (Headache (2015) 55 (S3): 141-2.) The VML system can easily be learned by playing a web-based game called VML-quiz, also tested by hundreds of people.
Curelator Headache became commercially available for iPhones and iPads in mid-June for an introductory price of $49.
About Curelator Inc.
Curelator Inc. seeks to improve quality of life, clinical health outcomes and lower medical costs in chronic conditions where people experience debilitating episodic attacks, such as migraine, epilepsy, and irritable bowel syndrome– but using non-pharmaceutical, knowledge-driven technologies.
This approach seeks to empower individuals with the possibility of avoiding triggers and combinations of disease-causing triggers and if an attack does occur, timing medications when they are maximally effective at aborting attacks.