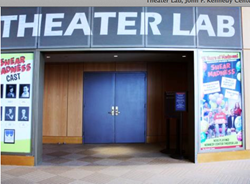 From facades and signage to ceiling systems and infills, Cambridge Architectural's metal fabric is a decorative and functional choice for architects and interior designers seeking creative solutions for theater and concert hall projects.
Cambridge, Maryland (PRWEB) June 22, 2015
From facades and signage to ceiling systems and infills, Cambridge Architectural's metal fabric is a decorative and functional choice for architects and interior designers seeking creative solutions for theater and concert hall projects. Among the newest Cambridge projects is the Theater Lab at the John F. Kennedy Center for the Performing Arts in Washington, D.C. where mesh is used inside the venue and at its entrance.
The 388-seat Theater Lab, built in the Kennedy Center's former black box theater space, is home to "Shear Madness," the comedy whodunit now in its 27th season.
Above the theater entrance on the Terrace Level, Cambridge Bead stainless mesh is welded onto angled framed panels to mark the venue's name. Inside, Cubist mesh fabric is as an effective visual light terminus on the perimeter of the theater's back wall. It masks overhead components and serves as a temporary cable tray for production. Cambridge designed a custom track system to hang the mesh.
The Theater Lab is the second Cambridge Architectural project at the Kennedy Center. In 2009, Cambridge Bead mesh was woven onto U-bar frames to provide elegant stairway railing infills leading to the entrance of the 324-seat Family Theater where the Performances for Young Audiences series is staged. Complementary wall sconces using Cambridge's Tweed pattern accent the stairway and entrance area at the Foyer Main Level.
RCG in Baltimore was the architect for both projects.
Cambridge mesh can also be found in playhouses, college theaters and symphony halls throughout the United States:
Steel River Playhouse, Pottstown, Pennsylvania
Located on Main Street in the heart of Pottstown, Steel River is a popular venue for theatergoers throughout Southeast Pennsylvania where it hosts more than 90 performances a year. Cambridge executed the building façade installation with four side-by-side flat mesh panels and three side-by-side curved mesh panels. LED up-lighting, incorporated into the façade design by the architect, illuminates the mesh in purple, green and red light. By night, the theatre is awash with color, attracting attention from pedestrian and vehicular traffic.
Mesh Pattern: Mid-Balance
Attachment System: Eclipse attachment tube system
Architect: Chad Conley
Design Firm: Ralph C. Fey, Architects
Installer: Cambridge Architectural
Louisiana State Student Union Theater, Baton Rouge
A Cambridge architectural mesh ceiling system provides a first-of-its-kind aesthetic for the theater lobby. Beautiful draping canopy-like curves sculpt the ceiling space for a clean and modern look. At the same time, the system smartly divides overhead lighting fixtures for a strikingly symmetrical visual appeal while hiding overhead structural elements such as ductwork, wiring and plumbing. The mesh brightens up the formerly dark space and the delicate nature of the fabric assures that the draped ceiling is comforting, not oppressive.
Mesh Pattern: Slink
Attachment System: Custom
Architects: Grace & Hebert Architects, Baton Rouge & HMS Architects, New Orleans
General Contractor: Buquet & LeBlanc, Inc. Baton Rouge
Installer: L&S Erectors, Litchfield, Ohio
Music Center at Strathmore, Bethesda, Maryland
The Washington, D.C. home to the Baltimore Symphony Orchestra and numerous other concert performances, Strathmore's interior features more than 10,000 square feet of custom brass metal fabric. The mesh functions as a rich decorative barrier with solid wood frames of maple and birch. Tested for acoustic properties, it allows sound to pass into the wall where it is trapped unobtrusively by heavy draping material. The mesh also enhances the flow of lighting and HVAC in the concert hall.
Mesh Pattern: Bead
Attachment System: U Binding
Architects: William Rawn Associates, Inc., Boston
General Contractor: Clark Construction Group, Bethesda, MD
Installer: Milestone Tarant, Capital Heights, MD
South Florida Community College Theater for the Performing Arts, Avon
Renovations transformed the venue into a high-end performing arts center. Brass mesh accentuates the lobby staircases and theater's balcony boxes and is contrasted by dark red velvet seating and trim. The brass mesh also acts as an acoustic baffle to improve sound quality within the theater, replacing standard kneewalls to give the interior a distinctive look that glows in the vibrant lighting.
Mesh Pattern: Plank
Attachment System: U-Binding
Architect: Leo A Daly, West Palm Beach, Florida
Design Firm: TSG Design Solutions, West Palm Beach Florida
General Contractor: Matthews Construction Co. Inc., Miami
Installer: Florida Aluminum & Steel, Fort Myers
About Cambridge Architectural
Cambridge Architectural, a division of U.S. Cambridge, Maryland-based Cambridge International, is the most experienced full-service provider of architectural mesh systems for both interior and exterior building applications. As the world leader in tensioned mesh systems, Cambridge Architectural metal fabric solutions lend unique aesthetic appeal, functionality, affordability and sustainable benefits to a variety of structures interior and exterior. Cambridge Architectural offers full system design, engineering and collaboration from concept through installation – in the most challenging building environments and under the strictest budgets. Cambridge Architectural metal fabric systems are categorized by the primary applications they serve, including parking structures, exterior shades, facades, canopies, curtains and others. As a member of the United States Green Building Council, Cambridge Architectural is committed to promoting methods, technology and products resulting in environmentally responsible and healthy buildings. The Cambridge Architectural team develops systems that meet or exceed LEED requirements and provides consultation and direction on a project-by-project basis. Visit http://www.CambridgeArchitectural.com for more information.