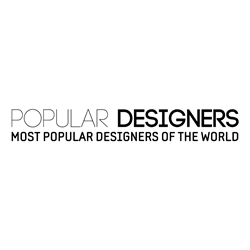 Como, Italy (PRWEB) June 21, 2015
Today, the Popular Desingers - POPDES platform announces the worldwide ranking of designers, architects, in-house design teams and creative consultants based on their fame. Unlike other ranking platforms that sorts global designers based on their merits and achievements in international design awards or competitions (such as the World Design Rankings, DAC - Design Classifications or the Designer Rankings), the POPDES algorithm sorts international designers based on a POPDES popularity score. For each designer, relevant POPDES points are calculated based on the number of impressions, profile displays, press appearances and design views. In simple terms, the POPDES ranking shows the World's most famous designers, but a higher POPDES score could be interpreted in three different ways.
Firstly, a higher POPDES score indicates that the designer is better at generating more impressions, more articles and attracts more design enthusiasts and media members with her designs; designers with higher POPDES points are more likely to be able to create original designs and innovative creative projects that attracts designophiles as well as press members and prospective clients.
Secondly, a high POPDES Score is an indicator of the designers' public relations and marketing skills, a higher POPDES Score indicates that the designer was able to create more buzz around her works, within this perspective, working with designers who have higher POPDES points could help companies to reach new and further audiences by utilizing the marketing and publicity skills of the designers as well as improving the popularity of their products by co-branding with them.
Thirdly, the POPDES score is an indicator of popularity and public taste. Higher POPDES scores indicate that the works of the designer are not only approved by international design award jurors or professional appraisers but also by design lovers worldwide who view their works as well as press members who feature such works. The POPDES ranking shows the public choice, so it would also be possible to expect that the designers with higher POPDES scores create more commercially viable products that would be appreciated by wide audiences.
Given all these three perspectives, working with designers who have higher POPDES score could potentially help companies develop products that are easier to market or publicize as they would be tapping to the marketing and publicity skills of popular designers as well developing attractive and aesthetic products that advertise themselves. Working with famous established designers, companies could expect to sell more products and earn a higher revenue through the additional publicity and expertise.
The POPDES popular designer rankings are revised every six months in order to account for the latest developments, new publications and achievements of designers worldwide. The current and latest POPDES Popular Designers rankings are available at http://www.popdes.com where press members and design enthusiasts can see the top 1000 popular designers as well as further details about their award winning works and complete profiles.
The POPDES score was developed by an independent research team at A' Design Award & Competition which previously published the several different design rankings that sorts the designers based on their merits and professional evaluations by international jurors which are composed of established academics, prominent design professionals and influential press members. The A' Design Award and Competition is the worlds largest design accolade, reaching designers in all countries each year. Further information about the A' Design Award and Competition is available at designaward.com