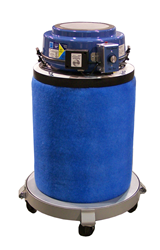 Filtration of medical marijuana dispensaries are similar to the air purification we use with the police evidence rooms. The best units will focus on VOCs/Vocarb and a quality carbon filter.
Peoria, IL (PRWEB) June 23, 2015
US Air Purifiers LLC, an Illinois based company specializing in commercial and residential air purifiers, announced this week that it will now be providing commercial grade air purifiers and related services for medical marijuana dispensaries in legal states.
Medical marijuana dispensaries frequently require the use of high quality air purifiers to eliminate strong odors, as well as to remove mold spores from the air, thus ensuring a safe environment for marijuana packaging and production. Barb Lulay, part owner of US Air Purifiers, has outlined three specific models suitable for this specialized application. The AllerAir 6000 Vocarb and 6000 Vocarb DX, which features a double carbon filter, and the Electrocorp RSU 20-48, are the models that the firm currently offers for use in a medical dispensary environment. Of the three, Lulay says, the RSU 20-48 offers the best protection against mold and other airborne impurities. All of these models feature high efficiency carbon filters suitable for commercial uses. It is critical to choose an air purifier that focuses on VOCs (volatile organic compounds) and has a quality carbon filter along with HEPA and an optional UV bulb.
In addition to these commercial air purifiers, medical marijuana dispensaries can also make use of UV lighting to further reduce the risk of mold growth within medical dispensary facilities. This ensures that when their product is distributed to those with a legal marijuana card, it is of the highest possible quality. As an added bonus, less inventory will be ruined by mold and other contaminants.
About the Business:
Barb and Dick Lulay's customers are passionate about naturally reducing their risk of disease. Their customer service and product expertise make shopping with http://www.USAirPurifiers.com and http://www.OttersDream.com an ideal experience. With a full line of natural products such as air purifiers, natural supplements, green cleaners, weight management and paraben free skin care, families find they can conveniently do their household shopping online with home delivery. As successful business owners, the Lulays offer a mentoring program for other aspiring entrepreneurs. They present exceptional marketing tools and a training program that shows how to generate immediate income as well as long term passive income