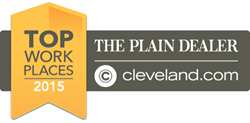 Every day that I'm in the office I'm amazed by the effort UHM employees put into creating a cohesive workplace
Cleveland, Ohio (PRWEB) June 22, 2015
Union Home Mortgage Corp. (UHM) is proud to announce that they have been named as one of the Plain Dealer's Top Workplaces for 2015.
Each year, the Plain Dealer recognizes the top companies in Northeast Ohio by sending out employee surveys conducted by WorplaceDynamics LLC. The companies awarded received outstanding employee feedback via the surveys.
UHM is a company that prides itself on their company culture, where their employees fully believe in their code of conduct. Their code of conduct creates a team-oriented and positive work environment for everyone involved, including their clients. "Have fun, but get it done" and "Every day create 'Raving Fans' of customers, Realtors, brokers, and fellow Partners" are examples of their code of conduct.
"When you walk into any of our branches the first thing you'll see is TV's with our code of conduct scrolling through," CEO Bill Cosgrove, said. "Company culture is everything to us and we work hard at implementing it. All of our offices are filled with Partners who want what's best for their fellow partners.That's why this award means so much, it comes from our employees and those are the people that we care about."
Union Home Mortgage Corp. believes that if your employees are excited to come into the office it will show in their work. They're always striving to give the best customer service but that starts with employees being happy with their jobs.
UHM is proud to receive an award that directly reflects how much their employees enjoy being a Partner at Union Home Mortgage Corp.
For more information on the Plain Dealer's Top Workplaces, visit http://www.cleveland.com/top-workplaces/ To learn more about becoming a Partner at Union Home Mortgage, visit UnionHomeMortgage.com/careers