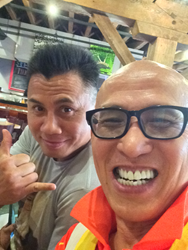 I came to the US Open and then moved to Alabama trained in Sanshou from Coach Shawn Liu. All my Sanshou started from Shawn (DeRu) then ...
Mobile, AL (PRWEB) June 23, 2015
The 8-day & 8-night intensive Kung Fu-Warrior training camp designed for both beginner, advanced martial artists and students, as well as future local and international instructors is scheduled for July 10th thru July 18th, 2015 at Shaolin Institute on Mobile Campus in Alabama.
This year Shaolin Intensive training camp comes to her 27-year anniversary. The camp strives to continue to train youth and adults whose families believe well rounded character training through high disciplined Shaolin Kung Fu traditions, and traditional Chinese culture education.
Shaolin Institute and Shaolin Chan Foundation together host this highly anticipated Shaolin Kung Fu Warrior Intensive Training Camp 2015-2016 (http://news.shaolin-world.net/intensive-warrior-training) to recruit serious martial artists, natural health healers and disciplined Zen life style instructors.
With this training camp, there will be a selection of Shaolin USA performance team and instructor team from a variety of groups of martial artists worldwide. When an instructor is tested with highest qualification, he/she will be paid with one of the most competitive pay in martial arts world.
In this eight day & eight night in-residence intensive training, students will be educated in both the cultural and martial arts aspects of Chan-Kung Fu. They will be trained in every aspect of the Shaolin and other internal & healing art forms.
The program will also provide students worldwide the credits to graduate from the teaching certification programs equipped to teach either at one of the local Shaolin Institute campuses or a school of his/her own with mental and physical discipline, high level of skills and administrative organization and business support.
With a curriculum geared toward people who wish to be instructors or future instructors, Intensive Kung Fu Warrior Training Camp are the pre-requisite for competitive qualified instructors as well as local beginner level instructors. Shaolin Institute has offered one of the most competitive salaries worldwide to qualified instructors.
Intensive Warrior Training Camp is a unique annual summer camp program only for serious martial artists (both beginners and advanced alike), trained and coached by Grand Master Shi DeRu and his teaching staff at one of his private martial arts campuses-Shaolin Institute Mobile AL this year. For 8 days (24/7) students are immersed in high intensity Shaolin martial arts training, focusing on Kung Fu, Sanshou, weapons training, Tai Chi skills, and Chan (Zen) meditation.
Master DeRu, modeled Intensive Warrior Training Camp after the Shaolin Temple's warrior training program and provides a cultural and martial arts experience unlike any other in the U.S. Master DeRu challenges students to push their minds and bodies beyond their perceived limits. Pushing the envelope develops the strength of character, discipline, and perseverance that made the Shaolin warriors legendary.
The program will indeed include not only external martial arts but internal arts like Tai Chi, Xing Yi, and Ba Gua. The main program will contain beginners' traditional forms as well as advanced weapons such as Pu Dao, Guan Do and Iron Whip.
The Shaolin camp started as early as 1988 at Mobile University campus, then, moved to the University of South Alabama. The camp later experienced many locations such as Spring Hill College Campus, Shaolin Institute New Orleans Campus and Atlanta new campus in Georgia. http://www.youtube.com/watch?v=q8ro86kER7M&feature=BFa&list=UUn5hBdli-Hk7lcFOUVTWfpw.
Shaolin Institute various camps traveled to many cities from Pensacola, Florida to New Orleans, Louisiana, from Daphne, Alabama to Washington D.C. and all the way to the Shaolin Temple of China.
Over thousands of kids and adults went through the training camps. For many years the Shaolin camps were with the US national Sanshou team camps working together in various locations where some of the best world champions were produced under Grandmaster Shi DeRu (Shawn X. Liu), the head coach of the US team.
Out of thousands of Children who have come and gone through the years, they all have a story to share of their hardships as well as sweet moments they have experienced at the camps.
Here is one of the stories about a Vietnamese-American young man with humble beginning who was struggling with his direction in martial arts and in life after he was disqualified from a few Tae Kwando events. He called Grandmaster DeRu, his future mentor many times for information on Kung Fu Sanshou fighting with which he believed that he could excel despite of his total ignorance of Kung Fu Sanshou/Sanda.
That was back in 1994 when Kung Fu Sanshou just took a first official leap in the US. It was that year when Cung Le won the first US Open Chinese Martial Arts Championship middle weight Kung Fu-Sanshou division along with David Sanders who won the light weight division grand champion. David was also from the institute.
From that day on Cung Le started training at the Shaolin Intensive Training Camp full time (on campus 24/7) under Shi DeRu (Shawn X. Liu) living with Grand Master DeRu, preparing for the world Wushu-Sanshou championship.
Since then Cung Le has fought numerous fights in Sanshou and MMA world, and won many international and world professional championships, having defeated two of the most well-known legendary UFC world champions, Frank Shamrock and Rich Franklin. He has become one of the most well-known and most resilient fighters in Sanshou and MMA world. He has become, according to the media, the fiercest legendary fighter from Asia today.
He is world class fighter who has been truly trained in Shaolin Kung Fu-Sanshou from Shi DeRu ( Shawn X. Liu) the Shaolin Grandmaster and God Father of Kung Fu Sanshou in the US. As Le expressed in the last interview before shooting the AMC TV martial arts drama series, "Into The Badlands". "I came to the US Open and then moved to Alabama trained in Sanshou from Coach Shawn Liu. All my Sanshou started from Shawn (DeRu) then and the rest is history."
6 years later after Cung Le's entrance in to Shaolin Intensive Training Camp, two young boys came with their father who practiced Kung Fu all his life. The boys turned out to stay with Shaolin Institute camps for the next 15 years. Both of them are part of the Shaolin Institute SWAT/Shaolin ambassadors' performance team members and both of them have won a few national and international tournaments and are some of the best amateur fighters in the US. Both of them became police men and both of them were selected to perform and teach on the TV series, " Into Badlands". This is what they have to say on Father's day 2015:
" ...Remember to take breaks and eat haho. Have a wonderful day, sir. Happy Father's Day, Shifu! Your teachings saved me and my brother from very a very negative and dangerous environment and helped mold us into the men we are."
Twenty years later, after Cung Le, a youth, named Dwight, who was struggling with obesity and diabetes, also came to the Shaolin Intensive Training Camp at Shaolin Institute Atlanta campus.http://www.youtube.com/watch?v=2zLFVNReLlA&list=UUn5hBdli-Hk7lcFOUVTWfpw&index=7&feature=plcp
Dwight came from Texas to the Shaolin summer training camp with his two cousins, from Texas Andrew and Oliver who had been enrolled previously at the Shaolin summer camp. They had enjoyed the eastern way of disciplined training along with many other benefits such as weight loss and Kung Fu self-protection skills. This is what Dwight wrote:
"I am finished with the Shaolin Warrior Summer Training Camp. It has been an enlightening experience that I will carry on past here. In six weeks I've lost 48 pounds and dropped 11% of my body fat. On top of that, I have brought my blood pressure down from 230/160 to 120/60! "
"I've also sharpened many skills such as my flexibility, endurance, concentration, will-power, strength, and discipline among many, many others. Under the training of such qualified and experienced people, I feel I have been given a unique experience to boost my learning while being immersed in the meanings."
"I've taken every class and they are all masterfully designed to fit any person. All in all, I have been taught a new lifestyle that I will carry on with me for the rest of my life." -- Dwight Brisbin
It is indeed many students and even patients came to the camps from various parts of the US and around world, from Korea to Germany from France to Brazil. They all came for one reason. That is to gain self-discipline ability and to better their lives in higher consciousness.
More information: http://news.shaolin-world.net/intensive-warrior-training