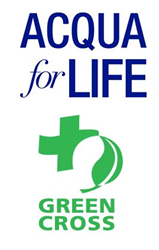 Giorgio Armani is convinced that access to clean water is a human right that must be fulfilled urgently.
Geneva (PRWEB UK) 22 June 2015
ACQUA FOR LIFE 2015
The first Acqua for Life initiative in Argentina will focus on the Chubut Province of Patagonia, a region stricken with poverty and a harsh climate.
A 300-metre-deep water well will be built in a community near Gastre to secure the local water supply and irrigate a greenhouse facility growing fruits and vegetables all year round. The lack of affordable fruits and vegetables has been a leading cause of nutritional disorders in the region. This transformative investment would not be possible without support from the Acqua for Life campaign.
In 2015 Green Cross will also use Acqua for Life contributions to support new infrastructure developments in Africa (Ghana, Ivory Coast and Senegal), China, and elsewhere in Latin America (Bolivia and Mexico). The campaign has been brought to countries (Ghana, Ivory Coast, Senegal, China, Sri Lanka, Bolivia and Mexico) on three continents since 2011.
Green Cross and Giorgio Armani will continue to raise awareness about water poverty in developed and water-rich countries throughout 2015, while carrying out concrete on-the-ground projects to supply deprived communities with secure, safe and sustainable water access. Through its flagship on-the-ground project, Smart Water for Green Schools, Green Cross provides millions of liters of safe water each year by building wells, rainwater harvesting systems, boreholes and water pumps.
Giorgio Armani is convinced that access to clean water is a human right that must be fulfilled urgently. Lack of water not only puts people's lives at risk, but also severely limits their access to education and development. Giorgio Armani has committed the strength of his brand and of his two fragrances associated with water, Acqua di Gio and Acqua di Gioia, to helping spread the word about the need to take action on a global scale to tackle the water crisis. The Acqua for Life initiative raises awareness of the importance of water, and of the need to help the hundreds of millions of people who lack access to safe drinking water.
AFRICA
In 2015, projects will target communities in one of the frontier areas between Ghana and Ivory Coast. As in previous years, water supply systems will be built for the communities. But projects will also include awareness-raising among fishermen and small-mine workers of the widespread practices that endanger ecosystems and water safety for the entire population that relies on the Bia River. In Senegal, six schools with about 3,000 pupils from rural neighbourhoods around the city of Thiès will see their schooling environment greatly improved with secure access to water for drinking and washing while a health centre serving some 6,000 patients annually will benefit from new facilities.
CHINA
Acqua for Life will be brought to Yunnan, China, once again in 2015, helping the village of Taihe near China's boarder with Vietnam. Only 30 per cent of Taihe's 2,200 inhabitants had been benefitting from a piped water system before even this was severely damaged and stopped working. A third of the villagers live below the poverty line, some in extreme poverty. Acqua for Life will facilitate the repair of the water network and its expansion to all households in need of clean water access, and foster ownership and sustainability of the new infrastructure by setting up a Village Water Management Committee.
LATIN AMERICA
In 2015, four schools in two townships of the state of Morelos in Mexico will benefit from similar activities and improvements to address these communities' water shortages – and change the fact that underprivileged communities pay a higher price for their water than others.
Create awareness with #1DayOn10Liters Challenge
To help spread the word about the importance of clean, safe water, Acqua for Life 2015 is challenging key bloggers, media and online personalities in different countries – from the worlds of beauty, fashion and beyond – to try and live on just 10 liters of water for one full day.
In developed countries, people use an average of 100 liters of water every day – but in some parts of the world having just 10 liters is a luxury. The #1DayOn10Liters challengers are documenting their experience and educate their followers online about water poverty and the importance of having reliable access to clean water.
The #1DayOn10Liters Challenge kicked off on World Water Day, 22nd March 2015. The challengers' experiences can be followed via the hashtags #1DayOn10liters #Helpgivewater #Acquaforlife and on the official website http://www.acquaforlife.org.