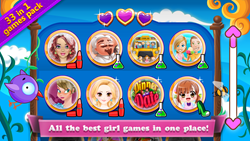 Parents looking a way to keep their children entertained have found the perfect bundle of joy!
Mountain View, Clifornia (PRWEB) June 23, 2015
RainbowDressup, one of the main players of the online girl-games market, announces the mobile launch of its largest bundle of games so far, the 33-in-1 Games for Girls pack. Some of the company's most diverse 33 girl games are wrapped up together in a free to download pack, to give the user the opportunity to discover and play any type of desired girl game.
The pack includes twelve dress-up, four cooking, seven skill, seven make-up and three pet-caring games. Melanie Potter, Creative Director at Rainbowdressup.com, explained : "The games featured in our pack are placed into different categories, to make it easier for the users to find exactly the type of game they want to play, be it a dress-up, a cooking game or even a pet-caring one. Change clothes and appearance for every fashionable occasion, spend a day at the SPA and glam up for pretentious events in those dress-up and make-up games. From sweet and sugary ice-creams and cakes to mouth-watering dishes, every task in our cooking games is fun and tasty, while your management skills will be put to test in the educational games."
The 33 games for girls are divided not only by category, but also by possibility to be played at no cost. There are twelve F2P games ("Bridal Glam Make-up" , "Cake Decorator", "Pack for School", "Ice Cream Delight", "Bright Make-up" , "Love for Spa", "Dinner Date", "Manga Doll", "Fantasy Wedding", "Restaurant Rush Hour", "Candyland Girl" and "Kids Day- Cotton Candy" ) and twenty-one locked ones, that can be accessed all together for $2.99. "Spicy Chicken Broccoli", "Mina The Leather Fashionista", "Stylish Chef", "Fashion Week Trends", "Fancy Lady With Cocktail" and "Summer Puppy Love" are just some of the locked ones in the 33 in 1 games for girls pack.
The pack will be updated weekly with fresh new games to keep the users engaged in the playing process and the themes will range from fashion and beauty to cooking and management. All games are kid friendly and appropriate for all ages. "Parents looking a way to keep their children entertained have found the perfect bundle of joy", explained Melanie Potter.
Rainbowdressup.com started out in 2009 as an online gaming company, developing games for girls of various styles and genres, with a strong focus on dress up games. In 2014, the company extended to the mobile world, continuously publishing its games for Android, as individual games or in packs. The 33 in 1 Games for Girls pack is the first with over 30 games in one place and addresses girls raging from 5 years old and up to 15.