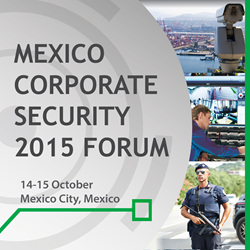 It's an IRN Summit!
(PRWEB UK) 22 June 2015
Mexico is currently undergoing major reforms to the energy, telecommunications, education, and financial sectors and the Government is opening the door to $50 billion of international investment by 2018 in the wake of these reforms, but this boost in the economy is menaced by serious security risks. Companies wanting to benefit from the huge investment opportunities offered by Mexico must ensure their corporate security is thoroughly evaluated, planned and executed.
The Mexico Corporate Security 2015 Forum, taking place on 14th-16th October 2015 at a 5* venue in Mexico City, will bring together senior security representatives from International and National Companies operating across the country, alongside the Government and a range of security service providers that will discuss corporate security challenges during this critical time of economic transition in Mexico.
The Forum will address a variety of issues including: present and emerging security challenges for investors; new regulation for the security sector; threats posed by drug cartels, organised crime and theft; challenges around security budget justification; business travel security; effective security communication; Cybersecurity trends; and latest security technologies, amongst many others.
The high level speaking panel includes senior security representatives from Banco de Mexico, Sony Electronics, Volkswagen Mexico, Control Risks, Technip Mexico, Fluor, Gemalto, Flextronics, GE General Electric, World Bank, Cargill, Delta Airlines, Diageo, Institute of Americas, Association of Certified Fraud Examiners Mexico City and Monsanto Company, to name but a few.
More information about this forum is available on the website: http://www.mexicosecurityforum.com