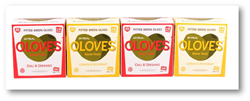 We printed the OLOVES snack packs digitally and produced impressive 3D prototypes that look like the real thing. This will drive decisions and ultimately help move products to market faster
(PRWEB UK) 24 June 2015
Creating packaging prototypes can be tricky but it is often seen as a necessary evil. Clients want to see how their brand image will be presented before the final packages are produced, as these are often large volumes. Digital printing in folding board now means that the packaging design market can easily produce 3D prototypes in much smaller quantities. This enables brand owners to review designs multiple times with multiple design concepts, without the restrictions of traditionally-produced prototypes, which are often expensive and not produced by expert carton manufacturers. The Alexir Partnership has become the first major carton-converter in the UK to install an in-line digital solution for folding cartons. The digital press, with a thick stock capability up to 610 microns, will be the first Xerox digital press with these heavier weight options to be installed in Europe.
The newly created digital division at the Alexir Partnership recently worked with olive experts OLOVES who are a young, friendly, fun-loving and food-mad company offering deliciously high quality pitted olives in delightful packaging. Alexir Digital worked with OLOVES to create a range of new innovative sample cartons and produced a short run of snack packs for their olive pouches in order to launch into the US market.
Digital printing for folding box board is ideal to bridge the gap between conventional printing methods and sample making. It is widely recognised that the origination costs using general lithography printing makes sample creating a cost-prohibitive exercise and is generally out-of-reach to SMEs.
Matt Hunt, founder at OLOVES, said "Presenting packaging concepts on folding box board has always been a challenge but retailers are keen to see how the final pack will look. We printed the OLOVES snack packs digitally and produced impressive 3D prototypes that look like the real thing. This will drive decisions and ultimately help move products to market faster."
About The Alexir Partnership
With proven reliability, excellent quality and innovative packaging solutions, The Alexir Partnership is the only UK owned company that offers a complete design to delivery service in the specialist food packaging and co-manufacturing industry.
Contact details
Claire Summersby, Marketing Manager and Head of Innovation,
+44 (0)1732 866681
csummersby(at)alexir(dot)co(dot)uk