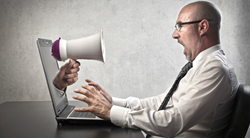 If you see a scare ad for MacKeeper, again we're asking you to report the url and the ad to us so we can take action against those responsible. We have adopted a zero tolerance policy
(PRWEB) June 23, 2015
Recently, MacKeeper took proactive steps to protect the brand from fraudulent and damaging content posted online over the years. As such, the priority will always be providing the highest level of quality and service while taking every necessary step to protect the security and data of the users.
To demonstrate this commitment toward its customers, MacKeeper asks that anyone who sees a scare ad for MacKeeper report the url and the ad so action can be taken against those responsible for displaying these unethical ads.
Protecting the Brand
When Kromtech Alliance Corp. acquired MacKeeper from ZeoBIT the first thing the company did was reconsider the approach to the way it advertises online and set up clear and distinctive compliance rules that are a mandatory requirement, both internally and externally.
You can read about Ad Policy here: http://mackeeper.com/why
Alexandr Kernishniuk, CEO of MacKeeper: "We understand that Mac users want a smooth user experience and have gradually changed our delivery methods to what we feel is an acceptable model. In our attempt to make sure that MacKeeper ads meet our own compliance requirements, we have placed strict set of rules on our third-party affiliate sales partners. In the beginning, many of them did not comply with our rules and were eliminated from our affiliate sales program. We depend on our affiliate partners just as they depend on us and the same can be said for the websites and bloggers that depend on this advertising revenue."
"Unfortunately, we still uncover affiliates who abuse our program and deliver unethical or scare ads. Our compliance team requires that all third-party ads and landing pages be approved before going live online as an attempt to ensure that what appears online is an accurate representation of the MacKeeper brand. When we find that one of our third-party affiliate sales partners is abusing these requirements we will take action. Recently, we have seen an increase in cases where a third-party affiliate will use a complex series of redirects to show scare ads and then funnel the visitors to an approved landing page. We do not approve of these methods and object to any form of scare advertising, - says Kernishniuk.
To report any instance of a MacKeeper Scare Ad* and claim a reward** please send the information to: scare[at]mackeeper.com

Scare Ad is:
a fake scan run, claiming that user's Mac is infected with a virus or viruses and/or at risk, pushing users to make them download or buy MacKeeper.
usage of scary and aggressive colors and backgrounds, different kinds of warnings and/or imitate system/browser errors.
misleading information. We can't claim that MacKeeper does things that actually it can't do (e.g. speed up Mac's performance, fix system issues, etc.). Also, there should not be a suggestion or a false association of MacKeeper with third party companies or organizations.
** Reward means license key for Monthly Subscription of the MacKeeper service.